How I Will Get You More Business from Google Search with Technical SEO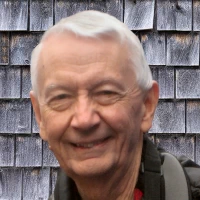 Technical SEO is the art and science of enabling Google organic search to crawl and index the pages of your website, understand what your website is about, navigate to the content most relevant to each user query, convert users to buyers, and deliver an excellent user experience, especially on mobile devices - something that Google values very highly and rewards through its ranking algorithms.
I will use my engineering knowledge, 100% "white hat" advanced technical skills and all proven search engine optimization best practices to analyze, test, upgrade, and fine-tune your website to make it more easily spidered, indexed and comprehended by the Googlebot crawler. I will NOT use "black hat" techniques that could get your website penalized by Google.
FREE Guide:
Grow Your Business with Google: The Definitive Guide to Choosing the Best Google Search Agency for Your Business
My New FREE 2023 Guide explains in plain English how Google Ads and SEO work, why you need to work with a professional agency, and how to find the best Google Search agency by evaluating their Qualifications, Experience, Business Culture, Measurement & Reporting, Campaign Strategy & Management, and Pricing & Communication.
SEO Audit: I will analyze your website and provide a comprehensive report with specific, actionable recommendations for website changes that will get more converting traffic, acquire new customers, generate higher-quality leads, make more and bigger sales, and enhance the legitimacy and reputation of your brand. Go here for more information about my SEO Audits.
Why I should be doing your SEO
Most SEO companies and individual practitioners will make promises of unrealistically high rankings of your pages on very competitive keywords, using "insider knowledge" they claim to have about how Google works. Nobody outside Google has that knowledge. These people will take your money and run. Go here to find out why you should not buy SEO or Google Ads or any other Search Marketing service on price or because someone has promised to get you page one rankings in Google. Because cheap SEO has big hidden costs, and anyone guaranteeing Google Page One rankings is either a fool or a crook.
I offer real-world, professional services at fair prices, with a Risk-Free 30-Day Trial and an Unconditional Money-Back Guarantee. I do not, cannot - because no one can - guarantee Google Page One rankings, but rather to get to know you and your business and increase traffic and conversions on your website purely by "White Hat" techniques that comply with all of Google's policies and guidelines.
Hiring your own staff to do SEO is expensive. Even if you're able to hire capable people - not necessarily a given - by bringing SEO in-house you immediately begin to incur training and overhead expenses.
SEO is harder than it looks. Doing SEO well requires specialized knowledge, skills and tools. I have an engineering master's degree and am a certified Google advertising pro. I will bring to your firm - without requiring a long-term commitment or adding to your overhead - a rare combination of expertise and experience at both the technical and sales aspects of online marketing.
SEO is always evolving. Just keeping up 100% with Google's ranking algorithm changes is a big job (I would know), and there are technical and regulatory changes constantly ongoing that impact SEO as well.
SEO takes a lot of time. Your time is better - and more profitably - spent doing what you do best: running your business. Leave SEO to me.
Measurement and reporting of results is a key part of SEO. I know what key performance indicators determine the impact of SEO on your business goals, and will report those to you regularly.

The technical SEO analysis I will do for your website, and the changes I will recommend, followed by conscientious maintenance to keep up with Google's ever-changing product features and ranking algorithms, will increase the number of qualified prospects finding and engaging with your site, as well as the number and value of transactions those new customers will complete with your business.

Ready to start making more money now? Most Google Search Marketing campaigns need an investment of a few hundred to a few thousand dollars a month, unconditionally guaranteed to satisfy you. Go here to tell me a bit about your business objectives and Get a Quote!
How Google Organic Search works:
Since 2004, when Google introduced Personalized Search, websites and pages no longer have a universal rank across all users for any given query. Search results that Google serves to a specific user today are based on (1) the relevance of each web page on the internet to the user's query, (2) that user's previous search history including queries used and sites visited and (3) that user's profile of personal behavior and interests as revealed by their Google account.
Google's ranking of your web pages in response to a specific query from a specific user is determined by how well its ever-changing ranking algorithm finds one of your pages will answer the user's question, or meet their need, based on the profile of that user which Google has on file.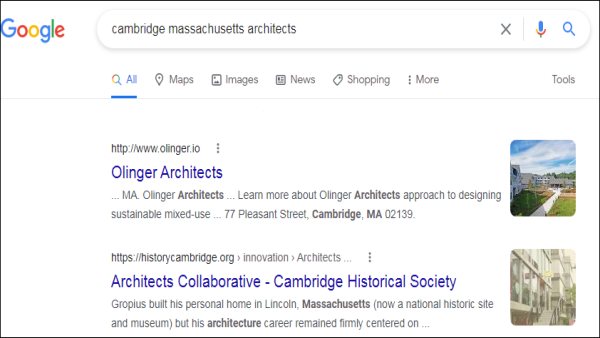 Screencap showing top part of a Google search return page (SERP). Google's ranking algorithm has placed a link to a page of Olinger Architects in the #1 position because of its relevance to the user's query.
The page - yours or a competitor's - that the Google ranking algorithm finds most likely to provide the information the user is seeking will be linked to from the #1 listing at the top of page #1 of search returns.
If your pages are ranked higher, Google will show links to them before those to competitors' pages.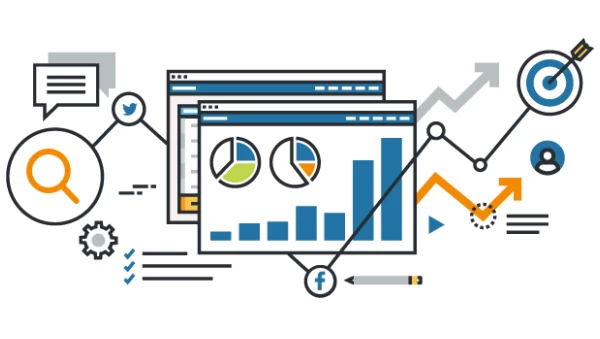 The very most fundamental purpose of any business's website is to attract traffic that converts.
For organic search traffic - traffic that doesn't come from paid ads, and makes up 53% of all website traffic - SEO is what makes that happen.
And your pages need to be optimized for the search engine most used by your best potential customers. That's Google. Because 86% of all web browsing sessions worldwide begin with a Google search.
The critical factors in getting
converting organic traffic
to your website are:
How accurately Google indexes your pages, and
How highly it ranks them
for the queries that your most valuable potential customers are using in their searches.
Technical search engine optimization (SEO) contributes to enhanced website performance by making pages:

Faster loading, easier to navigate and more usable, for better user experience

Mobile-friendly, because under Google's policy of mobile-first indexing, the version of a website's content seen by the smartphone Googlebot crawler is used for indexing and ranking.

More easily understood and more accurately indexed and ranked against queries by Google's BERT, MUM and other algorithms

Unique as to content, to avoid competition among pages that results in lower rankings for all

Up to date, by redirecting the URLs of retired pages to current alternatives and avoiding 404 (Not Found) errors

Safe for users, through use of TLS (Transport Layer Security, successor to now deprecated Secure Socket Layer) - a protocol for encrypting internet traffic and verifying server identity
In turn, that enhanced website performance will: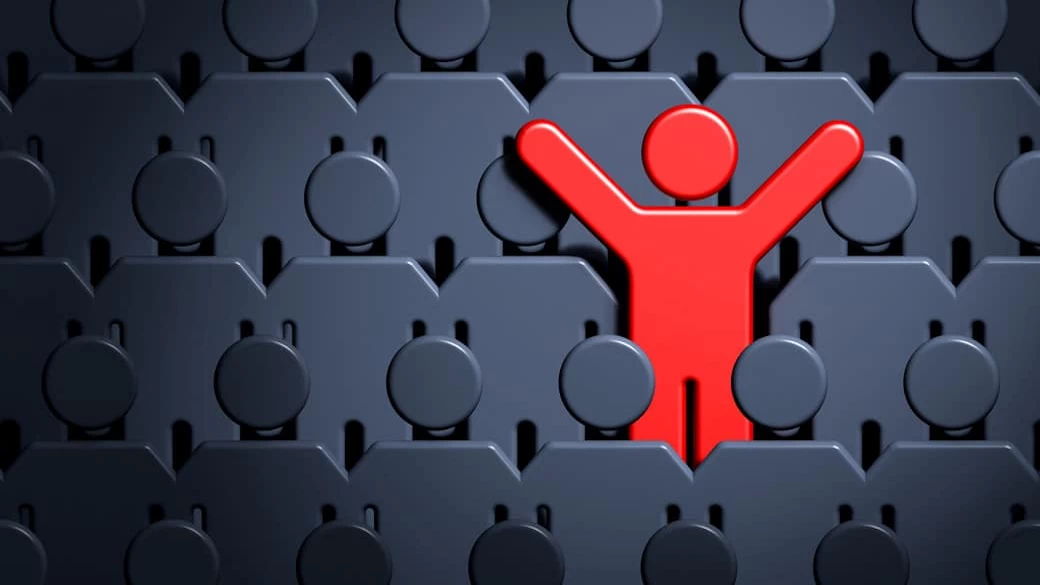 Differentiate you from your competition

Increase your return on advertising spend, since an SEO campaign involves no media buy, only our modest agency fee

Produce more prequalified website traffic from people who are using Google organic search to look for products or services like yours

Used in conjunction with Google Ads, increase the number of links to your website on a Google search return page, producing more website exposure to potential customers and enhancing the legitimacy of your brand

Reach your entire customer base with website pages optimized for each of your target demographics and for each level of your conversion funnel from introductory content to create awareness for new prospects to conversion-directed content for those ready to buy

Produce higher-quality leads with which you can begin to engage for future business

Convert lookers to buyers at a much greater rate and lower cost than outbound strategies like cold-calling or e-mail blasting

Give you powerful insights and hard data about your target demographics

Keep prospects on your website longer, viewing more content, maximizing lead-gathering and selling opportunities

Improve the experience users get from your website, getting you repeat visits

Create and increase awareness, authority and trust for your brand, through its enhanced visibility in search
SEO Audit: I will analyze your website and provide a comprehensive report with specific, actionable recommendations for website changes that will get more converting traffic, acquire new customers, generate higher-quality leads, make more and bigger sales, and enhance the legitimacy and reputation of your brand. Go here for more information about my SEO Audits.
An incomplete list of issues that technical SEO can fix includes: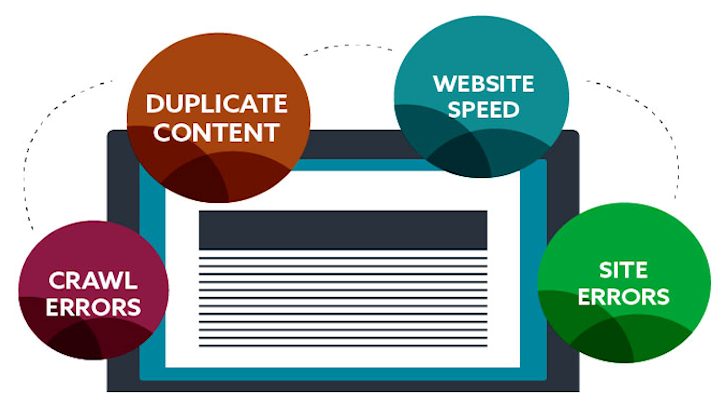 Failed Google Core Web Vitals assessments
Broken links and 404 errors
Excessive HTTP requests
Uncompressed HTML
HTML errors
Slow-loading image, audio and video files
Duplicate content
Unindexed pages
Orphan pages
Non-critical CSS and Javascript files that slow down page rendering
Duplicate titles and meta description tags that cause ranking competition between pages
Unused stylesheet code that slows page loading
Missing Google Analytics tracking code
White space and HTML comments that slow page loading
Images that could delay loading until after critical resources have been rendered
Static assets not cached
Page titles and meta descriptions too long or too short
Pages blocked by robots.txt file
Use of Flash
Mobile unfriendliness: too-small text, clickable elements too close together
No custom 404 error page
Illusion of completeness leaving critical content unread
An example of the results that technical SEO analysis and on-page improvements can produce: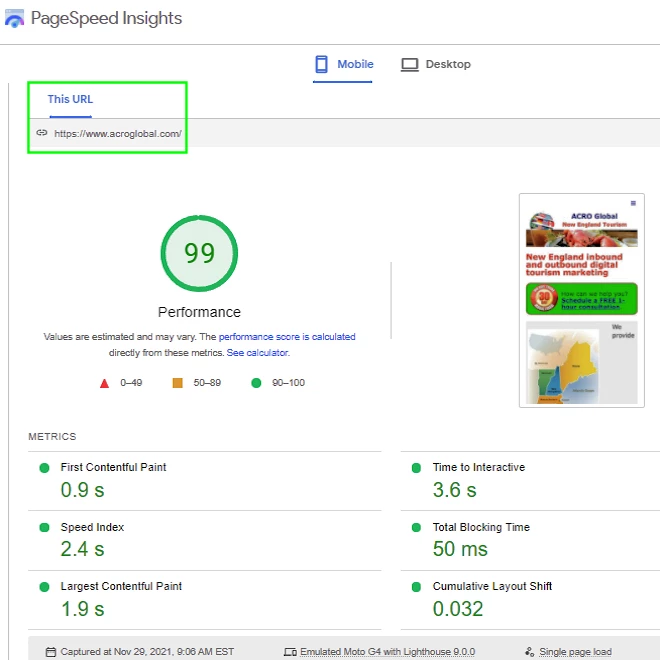 Google PageSpeed Insights Mobile Analysis of our ACROGlobal.com site
following Technical SEO analysis and on-page improvements