In new research on the behavior of Internet searchers by digital marketers Ignite Visibility, 62.9% of respondents said the factor that has the most impact on their decision to click on an organic search result is the Description vs. 24.2% who said the brand name and only 13.0% who said the Title.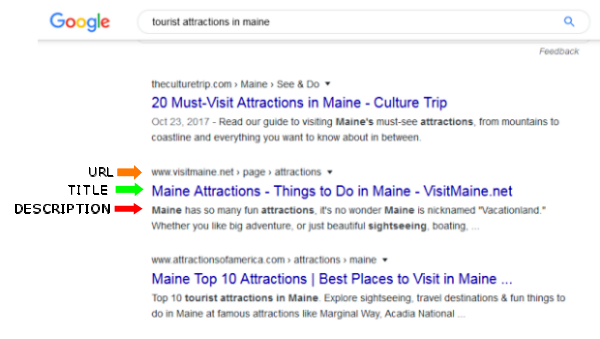 That finding has significant implications for both SEO and marketing, as the Descriptions that appear in organic search returns are in most cases controlled by the people who write the website copy - unless they leave the wording of the Description up to Google.
Because given a META Description tag on the home page that's representative of the content of the site and relevant to searches for same, Google will usually use that tag as the description in search returns.
More interesting findings
First, the good news:
85.2% of respondents said they prefer to click on organic listings vs. paid ads. (But bear in mind that past research has consistently shown that 40% or more of users are unable to distinguish one from the other.)
The majority of respondents (58.6%) said they look at 4 or more organic Google returns before clicking, and 14.0% said they look at more than10..
Now, the bad news:
The majority of respondents (55.5%) said they think Google is improving search results by sending less traffic to websites and instead delivering its own content snippets.
This research found that users' search intent varies with their immediate situation and the product/service category - and that Google still has trouble with this. Example:

When asked what their intent would be when searching on the word "pasta", 52.9% of respondents said "to find recipes", 14.6% said "to read artcles about pasta", and apparently no one said "to buy pasta".
When asked what their intent would be when searching on the term "bike helmet", 40.7% said "to buy a bike helmet" and 24.4% said "to read articles about bike helmets".
Comments:
Google's sometimes failing to correctly interpret the intent of searches is out of our control, but we can write META Description tags that tell Google what our pages are about and what kind of intent we're trying to serve.

Many of the content snippets delivered directly by Google are served up as responses to questions. If you haven't already done so, research the top questions being asked in your space and start answering them on your website.