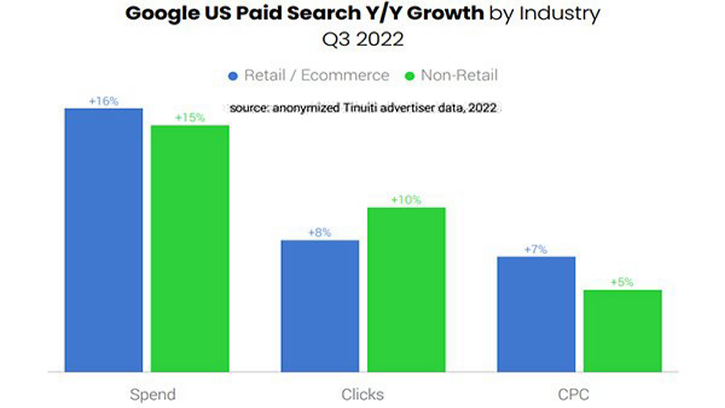 3Q2022 Google Ads spend growth equals that of 3Q2019
NYC-based Tinuiti - who bill themselves as the "largest independent performance marketing firm" - reports that spending by advertisers on Google Paid Search increased by 15% vs. 3Q2022 - a slowdown from 18% growth in 2Q2022, but equal to that of pre-pandemic 3Q2019.
In contrast, 3Q2022 revenues of Meta - which faces increasing competition from TikTok and other social-media platforms - were down from 3Q2021.
Tinuiti's statistics are based on data from more than $3B-worth of Google advertising programs they manage.
Tinuiti analysts find the average order value (AOV) from Google Search Ads was up 4% YOY in 3Q2022, but anticipate a shrinkage of AOD in 4Q2022 because of the current economic situation. Holiday-season retail shopping could be impacted somewhat by early buying and bargain-hunting.
Clickthroughs from Google Maps to advertiser physical locations were up 39% yoy in 3Q2022, but tended to drop off during COVID spikes.
Responsive Search Ads - now the Google Ads default format - produced 83% of clicks on Google text ads in September.
As for Tinuiti clients' spend on other Google paid search products in 3Q2022:
YouTube spend was up 19%, better than that (+14%) in 2Q2022, with CTV spend more than 2X yoy.

Google Display Network average CPM was up 8% yoy

DV360 average CPM was down 6%
Comment: Please bear in mind that none of these numbers came from Google. But statistics based on $3B+ of advertising - even if skewed toward retail, as Tinuiti's figures may be - should be pretty reliable.
Follow this link for more information about - and an opportunity to get a free consultation on - Google Search Ads.