How to take advantage of the FREE Google Local Pack to promote your businesss
Local businesses need to be here
You probably recognize the screencap above as an example of a Google Local Pack, like those that appear at the top of search returns - almost always above both paid ads and organic returns - 93% of the time when someone uses Google to search for any type of local business - either with a town or neighborhood in the query, or simply "near me."
If you run a local business and customers come to your location for service, and if you're not already appearing in the relevant Local Pack for your primary service area, you need to do whatever it takes to get into it.
How to do that? Here in a nutshell is how Google says to do it:
Create and verify a Google My Business profile.
As a minimum, include your physical address, phone number, business category and attributes - like if yours is a woman-owned business, does takeout, has Wi-Fi, etc. There's more from Google about attributes here.

Keep your hours of operation up-to-date and accurate.

Get, and reply to, Google reviews.

Add photos and posts to your GMB listing.
And note that Google's algorithm for ranking businesses in local search isn't the same as the algorithm used for ranking in organic search (but read the fine print, below).
Local ranking depends on:
Relevance - how well your business profile matches Google's understanding of the user's query

Distance - how far your business is from the location term used in the search, or from the user's location if that can be determined from the mobile device being used

Prominence - how well-known your business is - famous brands will get high ranks on this - but also considering what Google can find out about your business from links, articles, reviews and directories Internet-wide, and also from your prominence in organic search, so SEO is still a factor. For success in local search, your website needs to be optimized for:

Local content - all relevant location descriptors should be included.
Technical aspects - mobile-friendliness, loading speed, clear navigation for both humans and Googlebot
Domain and page authority, especially that coming from links and citations from trusted local sources
How will appearing in the Local Pack help your business? Here's an example that takes off from the search I did for "boston sporting goods" that produced the Local Pack in the screencap at the top of this page.
In the Local Pack, I chose to click on #1 listing Arc'teryx Boston. That opened the expanded listing, below: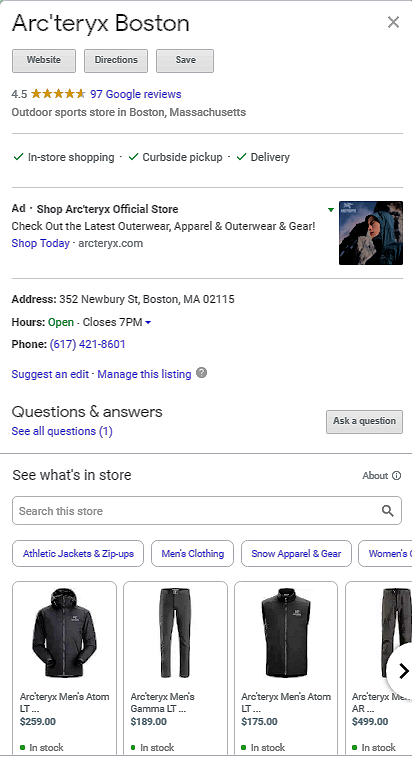 Note all the information and marketing opportunities that expanded listing opens up:
Website

Directions

Specials

Questions and answers

Store search

Products
Note also that local searches are especially popular with users of mobile devices, and that listings in the Local Pack contain click-to-call links when displayed in mobile devices.
From that previous screen, users can click through to the full Google My Business listing: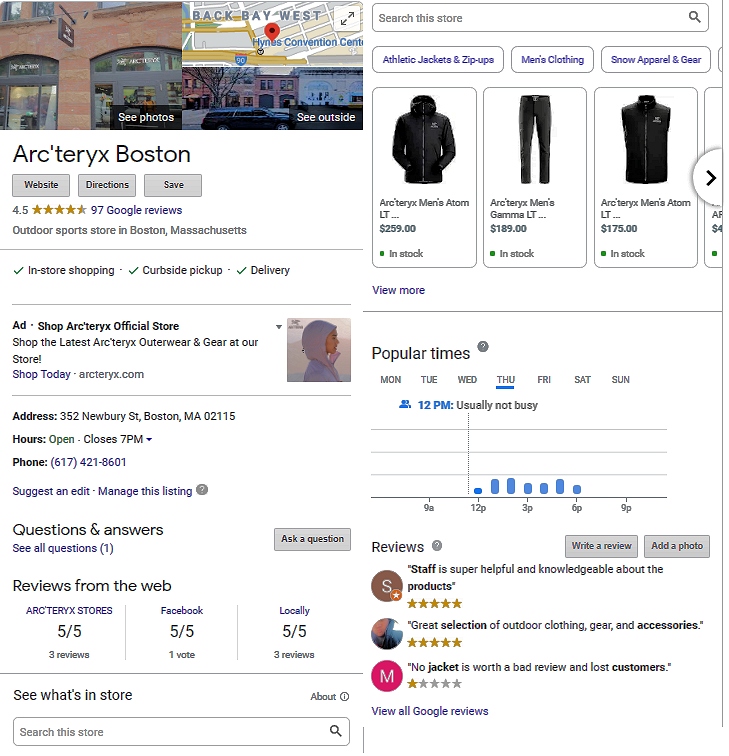 As you can see, the full GMB listing provides yet more useful information that can get people into the store:
Links to photos of the store

Links to reviews, from Google Facebook, elsewhere

Popular time
And remember that Google My Business, as provided directly to you by Google, is absolutely FREE unless you choose to incorporate one of the Google ad products. You can buy any number of ancillary services for updating, tracking reviews, etc., etc. from third parties - just search on "Google Local Pack" to see links to many of them - but GMB per se is FREE.
Are you excited about this yet? If you're running a local business, you should be!