Check your site search log for unsuccessful queries
A new post by the Nielsen Norman Group looks at what they've termed "keyword foraging": the process users must go through to find the right query language in order to be able to search intelligently for something online.
The NN/g analysts find that when users don't know what the item they're looking for is called, they usually begin by doing one or more preliminary searches on Google or another search engine using the best initial keywords they can come up with; then use the results of those searches to formulate a query for finding the article in question.
This process usually occurs in 1 of 4 situations - when the user:
Knows what an item looks like, but doesn't know its name

Needs a solution to a problem, but doesn't know the name of the source of relevant solutions

Used to know what something is called, but has forgotten

Knows what the item is called in one language or dialect, but not another
Persons lacking in research skills often struggle with finding keywords via this process.
And search engines often fail to find the needed solution when users are unable to come up with the right query terms.
This is a common problem that can be particularly important on sites where the subject matter is complex or specialized like computer parts or cosmetics.
How to help users find what they're looking for:
Display filters on the page, like those displayed on Ebay when a user initiates a search for "camera":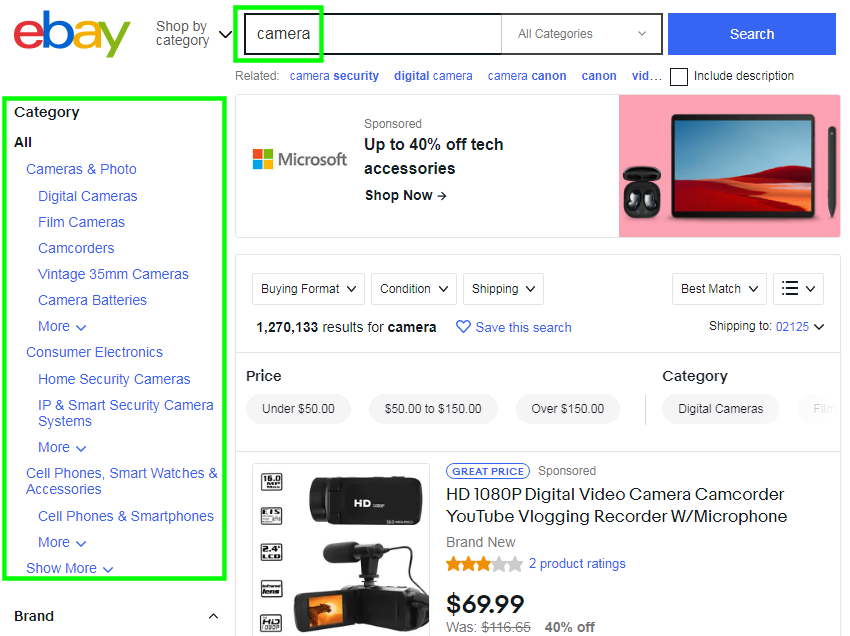 Anticipate what words people might use to search for your products if they don't know the correct names for them. Your site search logs may be full of queries like this.
Use plain language in your descriptions of products.
Accept imperfect queries in site search.
Don't unnecessarily invent new names for your products - no one will ever use your new names in queries.
If you do have a new, unique product to which no name in common use applies, use in the description whatever plain language is relevant to the product or its category, to educate customers.
Note that that last hint also applies to SEO: Googlebot and other crawlers will need help in figuring out what queries are relevant to your new product.