Use Site Explorer and Site Audit free
SEO software developers Ahrefs have released a new Ahrefs Webmaster Tools product which gives owners of small businesses access to the company's Site Explorer and Site Audit tools for use on their own websites.
Ahrefs Webmaster Tools lets business owners manage backlinks and keywords and do SEO audits on their own websites.
Ahrefs claims that Ahrefs Webmaster Tools fills the following "gaps of Google Search Console":
Monitors 100+ SEO issues vs. "a handful" for GSC

Gives detailed advice on how to fix each issue

Shows all known backlinks vs. top 1000

Provides domain- and page-level metrics

Shows broken internal and external links, and link types

Shows all known keywords vs. top 1000

Provides SEO metrics for pages and keywords

Shows SERP snapshot with competitive data

Shows SERP features for every keyword
To get Ahrefs Webmaster Tools, first go to https://www.ahrefs.com/webmaster-tools
and click Sign up for free.
You'll be given the options of signing up with Google or Facebook, or with your e-mail address: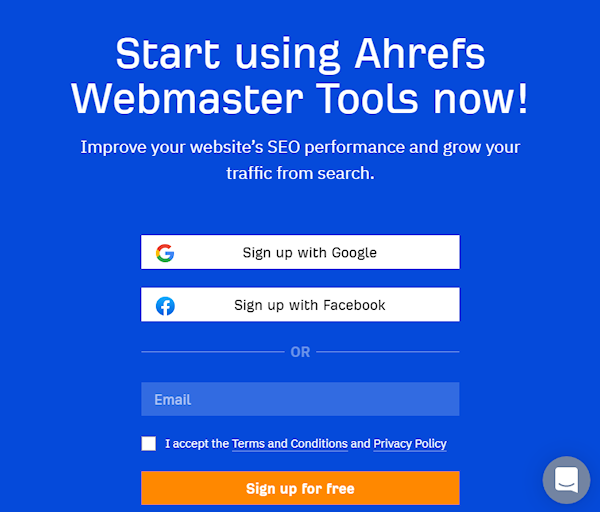 On the next screen, enter a name and password: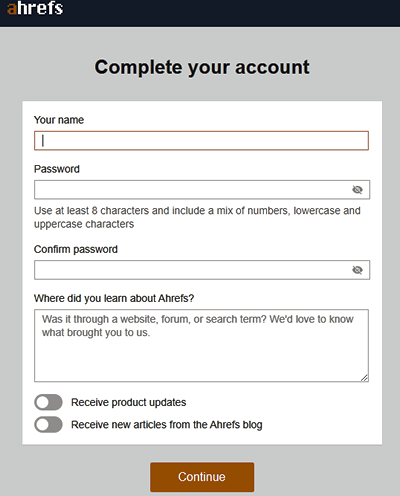 Ahrefs will attempt to verify your ownership of your website using Google Search Console. If that's blocked - as it was in my case - click Add manually. That will bring up this screen:
Enter your domain. The system will name your project accordingly. Click Continue and the next screen is: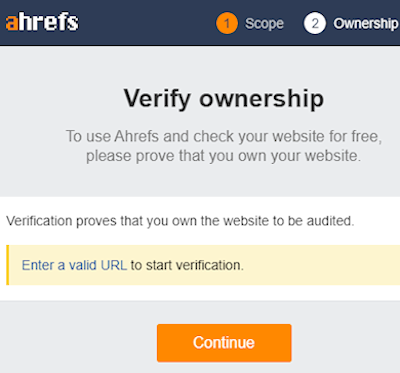 In the next screen, enter the URL of your home page. That should produce a screen similar to this one: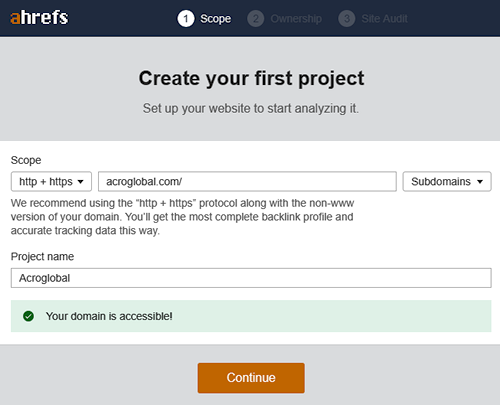 Click Continue to go to the audit scheduling screen:
Click the URL sources tab to see options for where Ahrefs will look for URLs:
Go to the Crawl settings tab to see many crawl options and settings (as shown below, plus many others):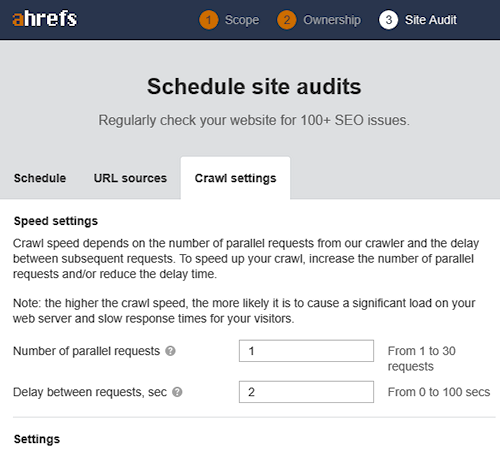 When you've completed those settings, Ahrefs will do an initial crawl and produce a set of charts like those below. (Timeframe for these is "Past 90 days" - other options are available.)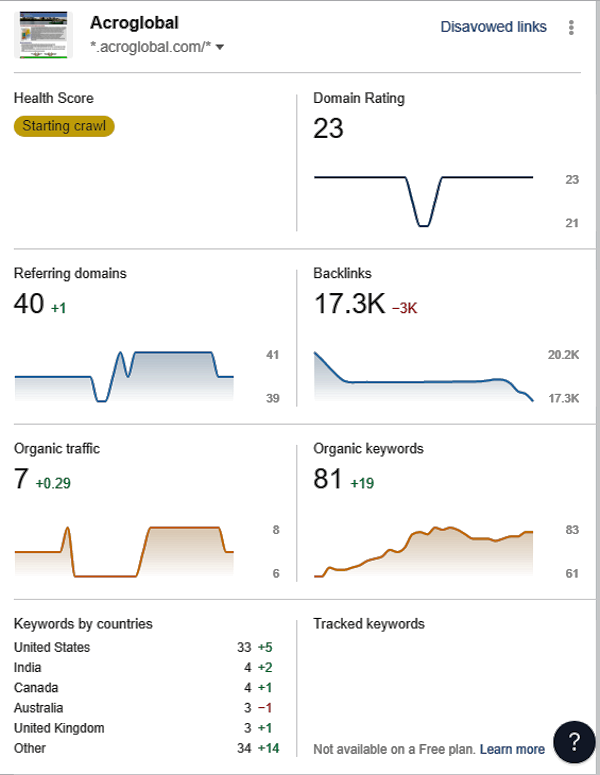 Ahrefs will update these charts with each scheduled crawl.
Click on any chart to see the data behind it.
Here's a sample of the Organic Keywords data from my example:
Pretty slick!
And the only limitations I can find to the functionality of Ahrefs Webmaster Tools vs. the full paid version of Ahrefs (which costs $990 a year and up) are:
You can only use it on any number of websites you verifiably own.
Crawls are limited to 5000 pages per month that return a successful status code (200).
Anyone owning a small business would be a fool not to use this free tool!