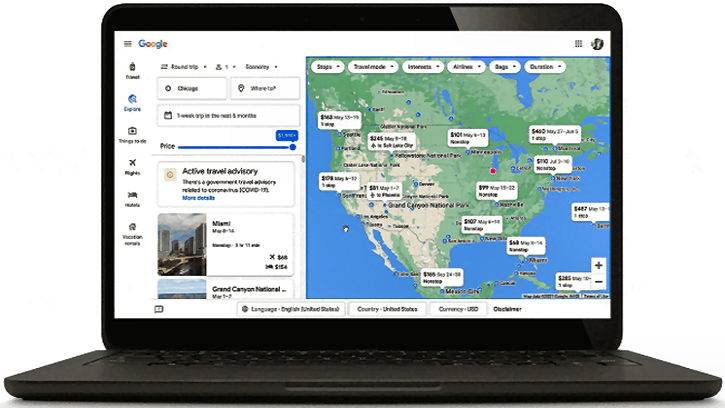 Google VP/Product Management-Travel Richard Holden has announced in a Google Blog post some significant upgrades to Google Search travel features in anticipation of a post-pandemic travel boom.
Mr. Holden said:
"As vaccines become more available, many people are eager to start planning vacations again. We're seeing more searches for travel-related destination information — like travel restrictions by country and where to travel, which both recently hit all-time highs. If you're ready to plan a trip, here are a few updates to keep you informed on the latest travel guidance and explore potential destinations."
Travel tool upgrades include:
When you start a search for flights, hotels or activities, Google Search will let you know what COVID-19 travel advisories or restrictions are in force at your destination, including details about testing or quarantining requirements.
You can elect to receive e-mail updates from Google about travel advisories or restrictions at your destination - by country worldwide, or by state in the US.
Explore now has its own tab on google.com/travel and along with flights includes destinations, filterable by interest: outdoors, beaches, etc. Once you select a destination, Google will show you travel advisories/restrictions, best flights, hotels, activities, best time to visit, etc.
Road trip planner in Google Maps on desktop: after you enter start and end points, you can choose different kinds of waypoints like hotels, parks, etc. to be added to your trip plan. Once your plan is complete, you can have Google send directions to your phone via text, e-mail or the Google Maps app, so you can navigate the trip from your phone. And you can make updates as plans change while en route.
Very cool. With the tremendous pent-up demand for travel that exists right now, this new addition to a long list of Google products that consumers come to love has good potential to provide the company with a landslide of traffic, ad spend and ammunition in any future antitrust suits.