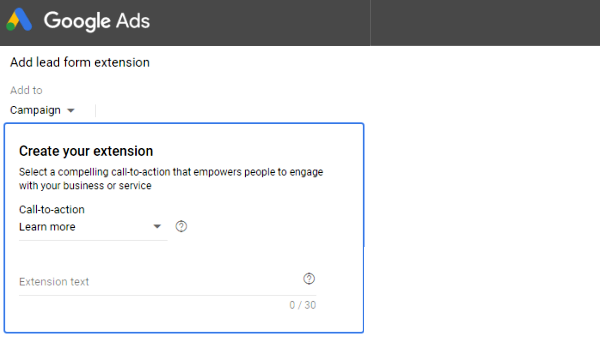 The Lead Form Extension now in beta for Google text search ads campaigns enables advertisers to capture opted-in contact info on prospects - which Google says it will not use to personalize ads served to the user - directly from search results via dropdown forms attached to ads.
When a user completes a lead form, Google Ads will count that as a lead conversion in performance reports.
Google has provided a set of eligibility requirements for the use of lead forms, including:
Inaccurate business names not allowed

Ineligible ad categories:

Adult-oriented

Alcohol-related

Gambling-related

Healthcare and medicines

Political content

Misuse of user personal information forbidden

Offers must be available

Proper trademark use required
To attach a Lead Form Extension to an existing Google Search ad:
In Google Ads account, go to a Campaign, click Ads & Extensions in menu, click Extensions at top of page.
Click the + button and select Lead form extension.


To create the Lead form extension, in the selected campaign, click Settings on the left menu, then in the Settings dialog click Goal:
Then expand Goal and select Leads:
In the left menu open Ads & Extensions and select Lead form extension: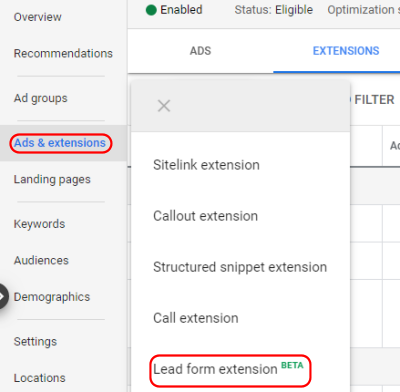 In the Create your extension dialog, enter a call to action of up to 30 characters:
Then in the Create your lead form dialog:
Enter headline, business name and description of your offer,

Select item(s) of user information you want to collect.

Provide a link to your website's Privacy Policy.

Provide a background image for the ad.

Save all of that.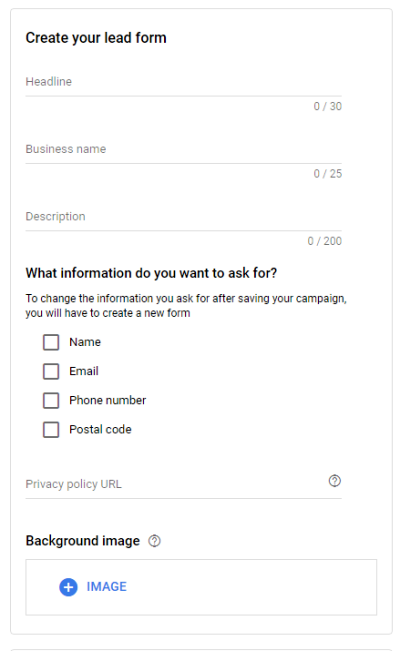 To download a CSV file of lead data collected by Google, in your Google Ads account, click Ads & Extensions in the left menu, click Extensions at the top of the page, click Download Lead.