In the latest version of its Google Flights consumer interface, Google has removed the "Discover Destinations" tool previously featured front-and-center and instead cuts right to the chase, offering just 3 "popular" destinations from the user's nearest airport, along with a greatly simplified map tool showing those 3 destinations only. And the desktop interface has been streamlined to look more like the mobile version. (The new look seems a little "derivative" - think Kayak.)
Here's what I found when I took the New Google Flights for a spin:
Popular Destinations
You can see from this screen cap (below) that Google believes - correctly - that the nearest airport to me is Augusta State Airport (AUG) in Augusta, ME. (It's 42 miles from my Boothbay Harbor location, vs.59 miles for Portland Jetport (PWM). And it's chosen DC, Boston and LA as popular destinations, to which I presumably might be interested in flying:
Since I know that I can fly non-stop from AUG to Boston Logan (BOS) - but not to any airport around DC or LA - I clicked on the Boston link, which gave me the view below...
...which offers me 3 Cape Air flights AUG-BOS non-stop, with departure and arrival times, flight durations and ticket prices.
But what if I want to fly from Portland PWM, which is really easier for me to get to than AUG, and might offer more flight choices?
If I click on Augusta in the blue bar at the top of the page, I get a fly-out menu of airports, like this: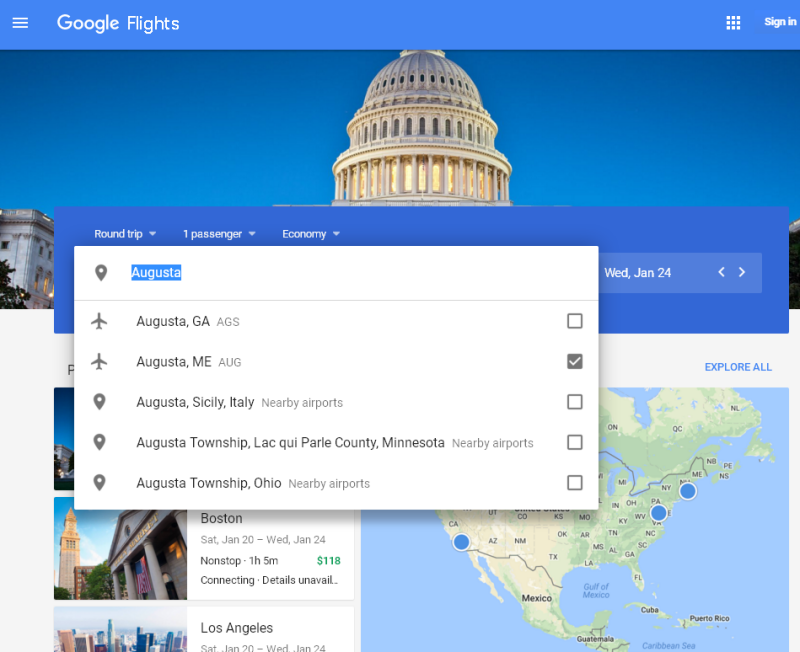 But that gives me choices only of other Augustas, which isn't helpful. But if I uncheck the Augusta ME box, the destination menu changes like this: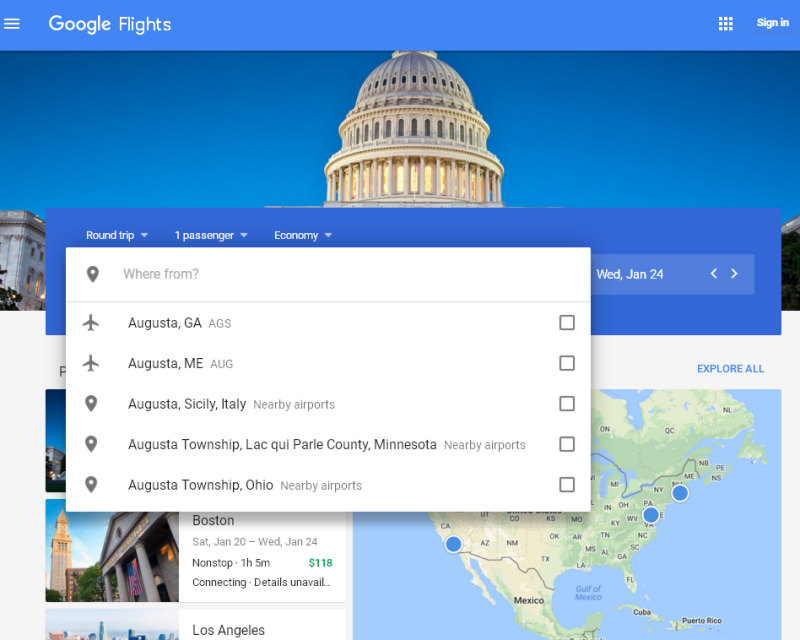 If in the "Where from?" field I key in Portland or PWM, the interface prompts me to choose Portland ME (PWM), and when I do that I get a list of PWM-BOS flights:
(Seeing those times and prices - and that all flights go via JFK - I'm glad I checked both AUG and PWM. And that there's fast and relatively cheap Concord Coach bus service from Portland to Boston South Station or Logan.)
The Map Tool
Clicking on the simple map shown in the first screencap (above) took me to this more detailed view that includes more cities and shows recent low fares:
In this expanded map view, each one of those little blue dots is an airport, so by zooming in and mousing over various dots the user can begin to access information for flights from the chosen departure airport to even very small airports, e.g., Tweed New Haven Regional (HVN):
Unlike the "old" Google Flights, the new version moves users along to fast bookings - still with carriers - of premium economy seats. To find bargains, you now have to take a side trip to Dates or the Price Graph.
You can go here for help with Google Flights.
The new changes make Google Flights the easiest-to-use and fastest site search engine for most travelers. Let's see how competitors respond.
(FYI, I haven't been compensated for this review in any way by Google or anyone else.)