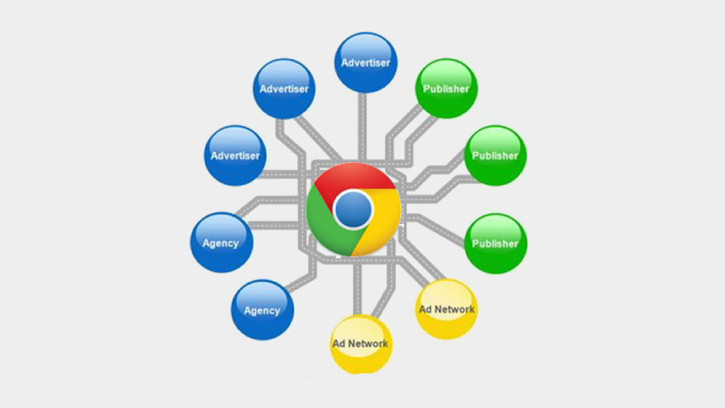 Senate Bill S.4285 introduced by Senators Lee, Kobuchar, Cruz and Blumenthal would require Google to abandon some parts of its digital advertising business.
Intent is to increase competition to the benefit of smaller companies and the public.
Sponsors of the bill say that Google has too-large shares of three critical parts of the digital ad ecosystem, in between Advertisers and Publishers:
"Sell-Side Software" wherein Google acts as a middle man routing ad space to ad exchanges - estimated share: 90-100%
"Ad Exchange" wherein Google acts in ways comparable to a stock exchange while itself being the biggest player in the market - estimated share 50-60%
"Buy-Side Software" wherein Google acts as an ad broker - estimated share 50-90%
Sponsors say their intent is to ban companies with more than $20B in annual ad revenue from being involved in advertising in ways that constitute conflicts of interest, and also subject companies with more than $5B in digital ad transactions annually to a new set of consumer-protection laws similar to those now existing in the financial services industry.
Senator Mike Lee (R-UT) said:
"Digital advertising is the lifeblood of the internet economy. It supports most of the free content and services Americans have come to rely upon, including essential local journalism, and it allows businesses of every size to reach their customers quickly and efficiently. Unfortunately, online advertising is also suffering under the thumb of trillion-dollar tech companies.
"Companies like Google and Facebook have been able to exploit their unprecedented troves of detailed user data to obtain vice grip-like control over digital advertising, amassing power on every side of the market and using it to block competition and take advantage of their customers. The conflicts of interest are so glaring that one Google employee described Google's ad business as being like 'if Goldman or Citibank owned the NYSE.'..."
Ad industry trade group Interactive Advertising Bureau (IAB) has taken a position strongly opposing the bill. IAB CEO David Cohen said:
"This legislation is intended to punish a few companies, but the effects would reverberate across the digital economy, affecting advertisers large and small as well as the American public. The unintended consequences would be devastating to one of the most powerful growth engines of the U.S. economy."
It's perhaps worrisome for Google that Republican Sen. Lee is the lead sponsor of this bill, since he has in the past opposed antitrust reforms proposed by Democrats including co-sponsor Sen. Kobuchar.
Will Google survive this attack intact?
Stay tuned.