Google has announced the start of the next phase of testing of its Privacy Sandbox initiative that's intended to replace cookie-based ad targeting in Chrome.
New alternative technologies are intended to improve user privacy while generating revenue for advertisers.
April 2022 timeline update: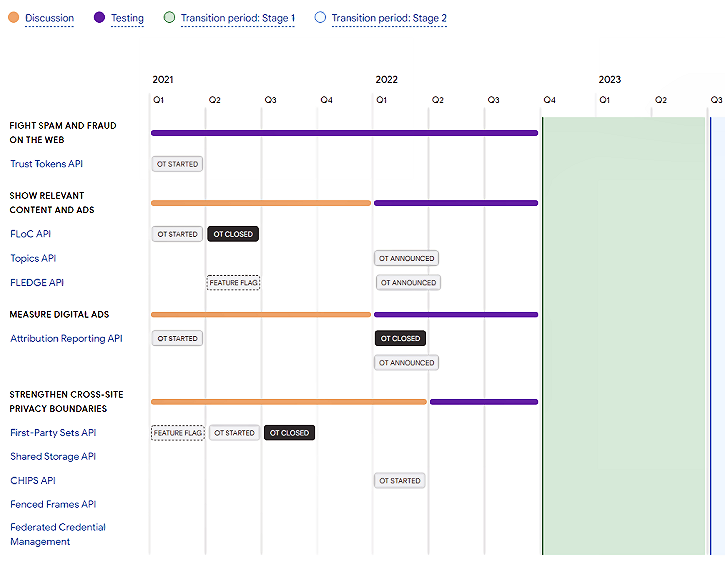 Privacy Sandbox Product Director Vinay Goel said in a post on the Chromium blog:
"Starting today, developers can begin testing globally the Topics, FLEDGE, and Attribution Reporting APIs in the Canary version of Chrome. We'll progress to a limited number of Chrome Beta users as soon as possible. Once things are working smoothly in Beta, we'll make API testing available in the stable version of Chrome to expand testing to more Chrome users.

"We recognize that developers will need some time to use the APIs, validate the data flows, and measure performance. We are looking forward to companies providing feedback as they move through the different testing phases, which will allow us to continually improve the APIs. Once we're confident that the APIs are working as designed, we'll make them broadly available in Chrome, allowing more developers to integrate, evaluate and provide feedback as we continue to optimize them for their use cases.

"Developers can expect support from Chrome in the form of developer guidance, regular updates, and a range of feedback and engagement channels. We strongly encourage developers to share feedback publicly and with Chrome, and we'll closely monitor progress along the way. We also welcome the role industry associations can play in this process, from facilitating collaborative industry tests to aggregating feedback themes..."
Topics - ad targeting based on on-device user tracking via browser - and FLEDGE ("First Locally-Executed Decision over Groups Experiment") - remarketing audiences based on groups vs. individuals - are key components of the Privacy Sandbox initiative, replacing the widely criticized FloC ("Federated Learning of Cohorts") tool.
As expected, the Sandbox project has attracted the attention of European regulators. who have been carrying out major antitrust investigations and enforcement actions against Google since 2017. But as Mr. Goel has pointed out later in his blog post, trials are going ahead in the UK after the Competition and Markets Authority appointed a trustee to monitor the implementation.
Will the Privacy Sandbox be able to produce a compromise outcome with which users, privacy advocates, regulators and advertisers can all live? Stay tuned.