GTmetrix speed test is unique
Web page speed test tool by Vancouver, BC-based GTmetrix has a combination of features not found in any other popular tool:
It uses Google Lighthouse to measure download speed, so results are consistent with what Google is seeing.
Except for unsubscribed, free version It offers a choice of browsers and download locations. (See map, above.)
It actually downloads the page in a browser.
Along with download speed, it analyzes your page structure and outputs Core Web Vitals metrics and other useful information.
It identifies page loading problems and provides suggestions for solutions.
Here's an example: free online, unsubscribed test of the index page of https://www.DavidHBoggs.com:[/i]
Starting from the home page of GTmetrix.com: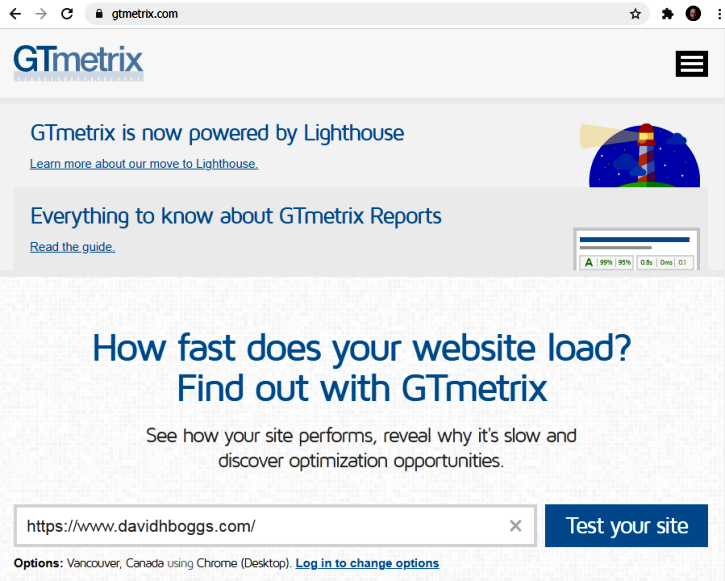 Just enter your page URL as I have, and click Test Your Site.
Notice that because I haven't signed in, download location has defaulted to Vancouver, BC and browser to desktop Google Chrome. Other options are available to signed-in subscribers.
After just a few seconds, the tool came back with the report below. This is the first screen: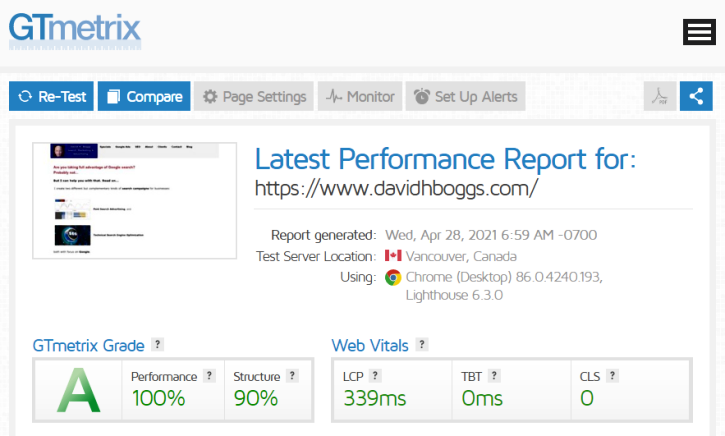 Notice all the information GTmetrix has compressed into this simple screen:
A screen shot of the page

Date/time

Download location

Browser version

Google Lighthouse version

Letter grade

Performance score (0-100)

Structure score (0-100)

The 3 Core Web Vitals metrics
Note the little "?" icons near each of the metrics - in the live page you could click on those to get explanations of what things mean.
The next screen has 6 tabs across the top. If you're not a subscriber, and don't have a video on the page you tested, you won't have anything behind the Video or History tabs.
But the first 4 tabs are full of useful information. For brevity, I'm showing just what's behind the Performance tab: Core Web Vitals metrics and related metrics, and qualitative labels ("Good" etc.):
The final screen shows Browser Timings - "milestones reported by the browser" - in a great deal of detail, with explanations behind the "?" icons: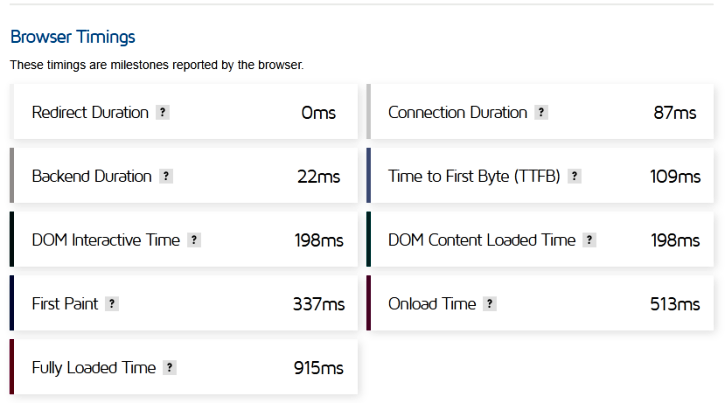 GTmetrix's 4 plans for subscribers range from Free (50 weekly tests) to $40 (not sure if that's CAD or USD) for 250 weekly tests and other benefits.
The GTmetrix speed test makes a fine addition to any web developer's or SEO's toolbox.
And GTmetrix isn't compensating me in any way to say that.