Tourism is a very seasonal business, especially in a destination like Boston that has four very different seasons.
Whether you're doing SEO for organic search on your tourism-related website, or running a Google Ads campaign, depending on one set of popular search queries/keywords year-round isn't going to cut it.
In this post, I'm going to show you how to find the most popular Google search queries for any destination in any month, along with related statistics on level of competition and Google Ads top-of-oage bids.
NOTE: Before diving into the example, you should know that (1) you'll need a Google account and (2) we're going to be using the Google Ads Keyword Planner. Although this tool is free for anyone to use, and workarounds exist for using it without a Google Ads account, the Keyword Planner is much easier to use if you have a Google Ads account. If you don't already have one, just set up a very basic one and you can keep it paused so you have no click spend.
To begin, log in to your Google account, go to your Google Ads account, and in the little toolbar at the top click on TOOLS:
In the menu that opens, in the left pane click Keyword Planner, which should open a screen like the one below:
Click in Find new keywords to get this screen:
Note that the Keyword Planner gives us some options here. For our immediate purpose, the best choice is to enter the URL of the dominant tourism website in the destination - in the example, the obvious choice is the Greater Boston CVB website BostonUSA.com. Enter that, and we get a choice of Entire site, This page only or Keyword.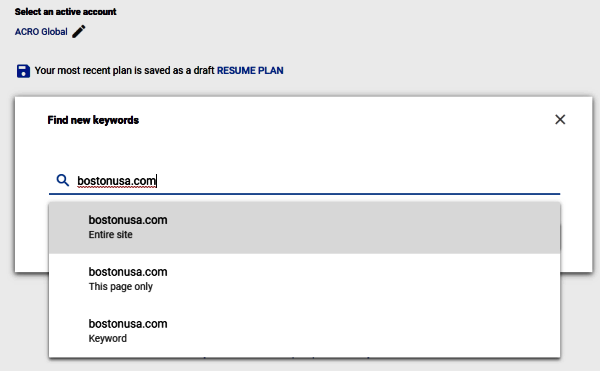 Once again for our immediate purposes, "Entire site" is a good choice. Click on that, and the next screen looks like this:
Click GET STARTED.
Next we're given an opportunity to DOWNLOAD KEYWORD IDEAS. But first, we can set the timeframe of the data:

In the calendar that opens, select January and click Apply:
Clicking Apply sends us back to the previous screen where we can click DOWNLOAD KEYWORD IDEAS to get a CSV file of the January 2018 data, the top left area of which looks like this when opened in Excel: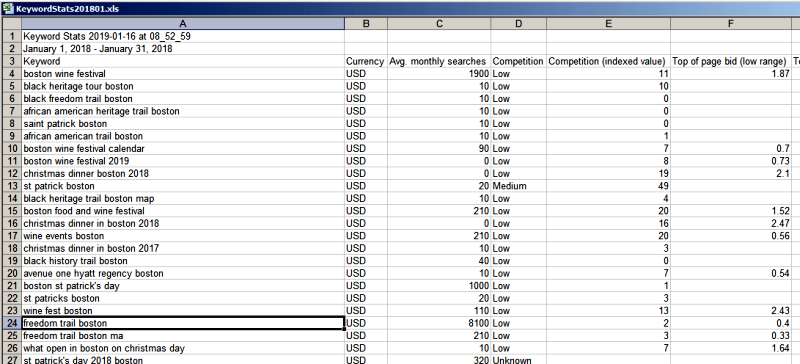 Saving that CSV file as an Excel workbook for formatting and manipulation, after some cleanup of empty columns and rearranging, then sorting on Searches: Jan 2018 descending and Keyword ascending, we have a list that looks like this:

FYI, the entire spreadsheet contains 2453 search queries, including a bunch that weren't used at all in January 2018 (but were used sometime in the past 12 months).
See all the useful information we now have for every search query used to reach BostonUSA.com in 2018 :
Number of searches done in January

Level of competition

Competition Index, calculated as the number of Google Ads advertisers worldwide bidding on the keyword relative to all keywords across Google

High and low ranges of top-of-page Google Ads bids
(Why did the Fogo de Chao restaurant get 301,000 searches in a month? Maybe they ran a very aggressive Google Ads campaign.)
Notice how in the Competition Index the most competitive queries jump out (big numbers): downtown boston hotels, cheap hotels in boston, boston hotels, hotels boston ma.
The Google Ads top-of-page bid estimates are useful also, even if you're not doing Google Ads: the higher the required top-of-page bid, the hotter the query term.
Perhaps you're thinking that many of the most-used query terms are branded keywords, so not of use to you in promoting your own product. However: farther down the complete list there are some potential gems with low competition indices, e.g.:
activities around boston
best places to visit in boston ma
boston attractions night
boston steakhouse restaurants
day activities in boston
events in boston this weekend
family things to do in boston ma
fun things to do in boston ma
outlet boston ma
best things to see in boston
downtown boston shops
where should i go in boston
restaurants in boston usa
boston rock clubs
And if you need more keyword ideas than you got from the first destination URL you tried, just repeat the process with e.g. in the case of our example Boston.com, MassVacation.com, etc.
And your only cost is your time.