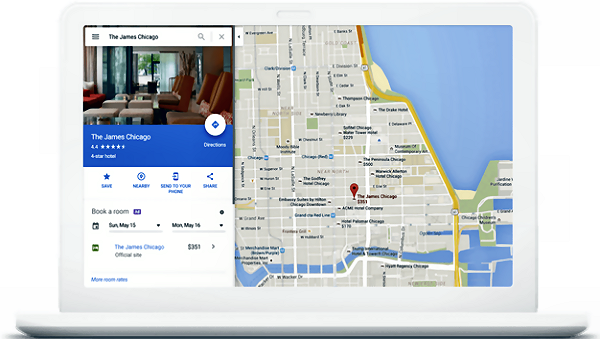 The Digital Marketing Report for 4th quarter 2019 just released by marketing analytics firm Merkle Group provides a lot of useful insights into the performance of paid and organic search and advertising in the quarter that ended 31 December 2019:
In 4Q2019 Google accounted for:

91% of all US search ad clicks, and 91% of total advertiser spend

97% of clicks and 98% of ad spend from smartphones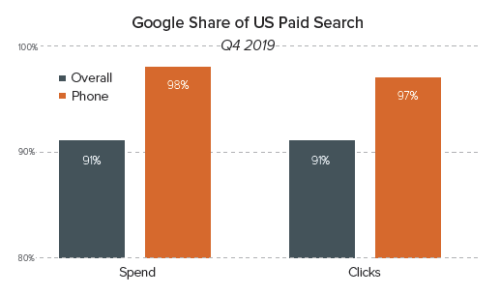 Growth of Google text ad spend accelerated in the quarter.

Google search ad spend grew 16%, clicks were up 11% year-on-year and average cost/click rose 4%.

Spend on advertiser brand keywords grew 24% yoy, that on non-brand 14%.

iOS devices and desktop Safari accounted for 54% of US Google search ad clicks, up from 51% in 3Q2019.

Although mobile ads continued to exhibit the fastest growth, clicks on ads from desktops also rose for the first time in 2 years, and desktop ad spend rose 12% yoy.

YouTube ad spend increased by 43% yoy, and accounted for 26% as much spend as Google search ads.

Clicks on text ads from Google Maps continued to grow, but their share of total clicks continued to decline from a peak in 2H2018.

Google organic search traffic was down across device types, and decline accelerated. Clickthrough rates on organic brand listings also declined for many advertisers.

Total organic search visits declined by 11% yoy, following a 9% decline in 3Q2019.

Google produced over 92% of US organic search visits, up slightly yoy at the expense of Bing and Yahoo.

In the travel vertical:

Google ad spend grew 17%, clicks 9%, cost/click 7%.

Google paid search clicks came 64% from smartphones, 6% from tablets, 30% from desktops.

Google paid search spend came 46% from smartphones, 9% from tablets, 45% from desktops.
Comment:
Google seems to be unstoppable in paid search. But this growth is happening in part as a result of squeezing organic listings out of the prime screen real estate above the fold, especially on smartphones. Of course it makes sense or Google to do this, for the incremental ad revenue it produces. But sooner or later there's going to be a backlash in the US market as we've already started to see in Europe, from regulators, competitors and users.