Most changes will be approved in 24-48 hours
Google announced on Monday that owners of Google My Business (GMB) profiles can now edit their information directly from within Google search.
First, of course, you need to have a Google My Business listing.
If you don't know the URL of yours, just open a browser window, log in to the Google account associated with your GMB listing, and search on the name of your listing. In this example, I've searched for the ACRO Global Boothbay Harbor office, the GMB listing for which looks like this: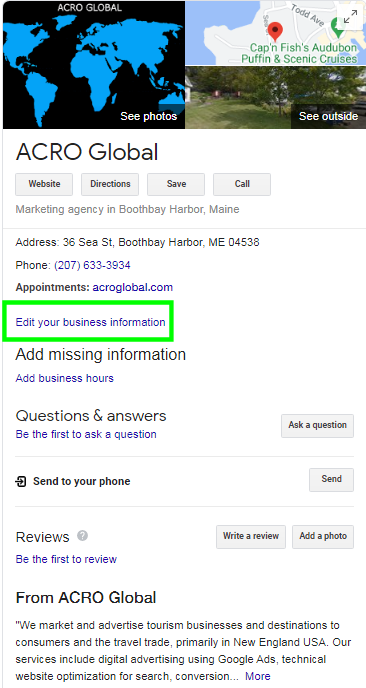 To begin, click on "Edit your business information".
That should bring up a dialog that looks like this:
Clicking on "Change name or other details" should bring up a screen like this:
Expanding Category opens this dialog:
Back at the Edit your business info screen, if you expand Hours, a screen like this opens:
If you then return again to the Edit your business info screen, you'll see an Add a photo link:
Clicking on that opens a photo-picker that lets you choose and upload a photo from your hard drive.
According to GMB Help, when you've completed edits, they will be classed as Accepted, Held pending review or Unaccepted, usually within 24-48 hours. But some changes are "automatic" and others - usually those involving removing something - can take up to 60 days.
Happy editing!