Above the fold vs. Below the fold
Make sure all your important copy is read
The concept of "illusion of completeness" as applied to content on a web page - visible content appears to be complete but more exists outside the visible area - has been around since at least 1998. But it's still a problem that causes users to overlook important pieces of content, leading to failure of engagement, increased bounce rates, shorter times-on-site and fewer conversions.
One of the best analyses of the illusion of completeness I've seen was published by usability gurus Nielsen Norman Group (NN/g) in 2016 because they were still continuing to see the phenomenon occurring in user testing. And just this week NN/g has republished this article because the problem has still not gone away.
Here are the key findings from the NN/g analysis:
Although users have now learned to scroll vertically, they'll do so only if they believe there's useful information farther down the page.
Giant graphics or videos at the tops of pages often push valuable content below the fold while presenting visible links that will take the user away from the page.
Distinct horizontal lines (think horizontal rules, among other things) or excess vertical white space between content sections tend to make users think they've reached the end of the page.
Ads, special offers or social-media sharing buttons that interrupt the flow of content in a page can also signal users that they've reached the end.
All of these problems are especially acute on mobile devices with small screens.
Users don't cope well (yet anyway) with horizontal scrolling in web pages.
NN/g recommends:
Leave enough room below large top-of-page banners, carousels or videos to let users see the beginning of the content that follows below the fold.
Be aware that contrasting horizontal lines or white space can trick users into overlooking content below.
If you interrupt content with ads, etc. give users a visible clue that content continues below.
If you must use horizontal scrolling, give the user obvious navigational cues (arrows, slide counts, etc.).
Test your pages on many different devices.
Example:
Here's a screencap of the above-the-fold area of a web page: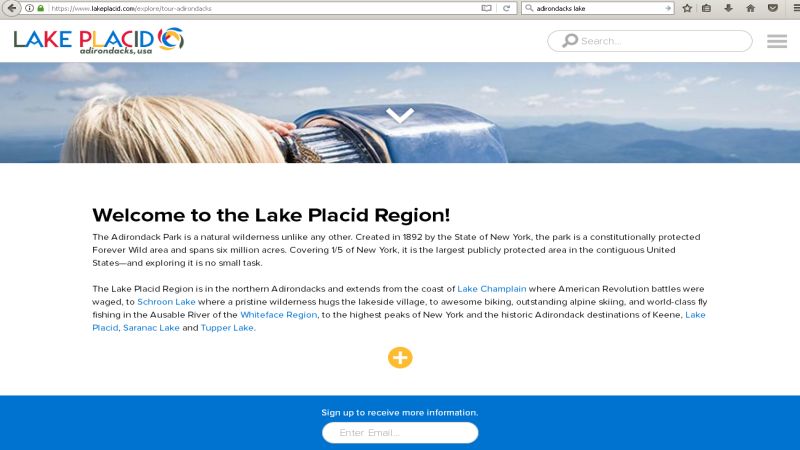 Note the "Sign up to receive more information" call to action at the bottom. NN/g's typical testing results suggest that about 3 users out of 4 who continue to interact with the site will enter their e-mail and leave the current page.
Not everybody expects to have to click on that little plus-sign graphic in order to see the rest of this page's important content.
Of which there's actually quite a lot:
Can users easily reach all your important, conversion-inducing content?
You can get clues to which of your important pages are underperfoming by looking at Bounce Rates and Average Time on Page in Google Analytics.