New and Improved PageSpeed Insights tool from Google
The latest free Google PageSpeed Insights tool provides lots of actionable information you can use to speed up loading of your website on desktops or mobile devices:
An overall numerical (0-100) performance score for the page

Real-world field speed data from the Chrome User Experience Report dataset

Fast/moderate/slow classification of the page based on aggregated page loads over the past 30 days

Fast/moderate/slow distribution of times to First Contentful Paint (FCP) and First Input Delay (FID)

Page performance based on lab data for these metrics:

First Contentful Paint

First Meaningful Paint

Speed Index

First CPU Idle

Time to Interactive

Estimated Input Latency

Audit results, broken down into:

Opportunities to improve performance
Diagnostics
Passed audits
And it explains each of these things in detail.
For purposes of example, I ran the tool in mobile-device mode on the Massachusetts Office of Travel and Tourism website MassVacation.com, the top part of which looks like this:
The PageSpeed Insights tool is here https://developers.google.com/speed/pagespeed/insights/ .
Keying in the MassVacation.com home page URL and clicking ANALYZE produced a report that begins like this:
That first screen shows overall performance score on my immediate test run of 26/100, which falls into the SLOW category. But Chrome User Experience Report data from the past 30 days shows moderate speed (2.4 seconds to FCP, 25 ms to FID).
Checking the Show Origin Summary box opens speed information on pages of MassVacation.com below the home page, which on the basis of my immediiate test of the home page it categorically rates as SLOW:
Next up are Lab Data, which I'm showing in the expanded view that explains the various metrics. On the live page, you can hide the explanations by switching the button at top right from right to left:
At the bottom of that screen you can see timelapse captures of the page as it loads.
Next the report shows Opportunities for increasing loading speed, with estimated gains: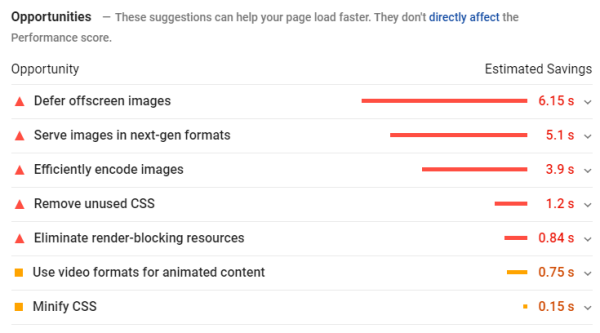 Any of those Opportunities can be expanded for further information in great detail, like this: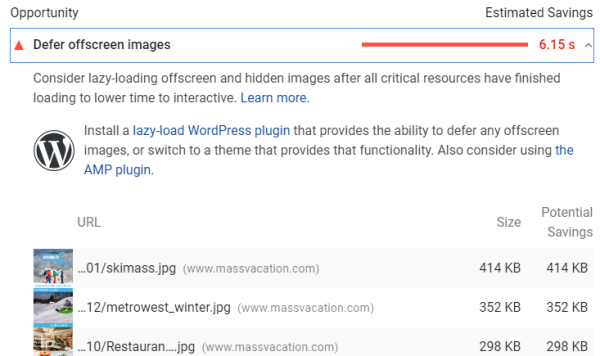 Next, Diagnostics, any of which can also be expanded for more information:
Finally, Passed Audits, which can also be expanded:
That's an excellent free tool that marketers should be using as well as developers - because it shows you the metrics Google is using to rank your website in organic search, and giving you actionable recommendations to improve those metrics. Don't fail to take advantage of this opportunity!
For more information and FAQ from Google re PageSpeed Insights, go here:
developers.google.com/spee...eed/docs/insights/v5/about
And for more tools and techniques for improving website performance and getting better Google rankings, see the Related Listings, below.