Structured Data Markup Demo
Transformation of Search Summit scheduled for 19 October 2018 in NYC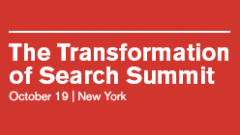 Conference organized by ClickZ with Search Engine Watch and Catalyst will be addressing latest trends in search: platforms and technologies, organic and paid.
One-day event will be held at Convene at 117 W 46th Street in NYC.
Target attendees are "business leaders and search professionals": C-types, high-level marketers, high-level SEO/SEM people.
Early-bird tickets are $795 to 14 September, full rate after that is $1195.
Here's where all that came from, line by line:
"http://schema.org" is used in every script.
The various @types for non-AMP pages are here: https://developers.google.com/search/docs/data-types/article#non-amp
"NewsArticle" and "WebPage" were obvious fits for my content.
"@id" is the URL of the page: http://www.davidhboggs.com/article.htm
"headline" comes from the <h1> tag of the page.
Then come the "image" URLs, one for each image on the page: head shot, Newsletter icon, conference icon. Include all your important images.
Next are "datePublished" and 'dateModified" in iso 8601 format, which you can get here: http://www.timestampgenerator.com/
Then come "author" data, with @type=person, name=David Boggs
Followed by "publisher" data: @type=Organization, name=ACRO Global
Then "logo" with the data pair @type: "Image Object" and the URL of the ACRO Global logo
Finally "description" from the <META description> tag of the page
Saved the page, uploaded it to DavidHBoggs.com and ran the Google Structured Data Testing Tool on the page URL from here: https://search.google.com/structured-data/testing-tool
which produced this result:
No errors, no warnings. Great!
But had I messed up, Google would have given me a (more or less) helpful error message.
If this were a "serious" page - not an example - I'd next add it to my XML sitemap, upload that and run it by Google Search Console for re-indexing.
Do you want more and higher-quality website traffic and more conversions? Get a
free consultation

to learn how I can help you do that. Just complete and send this form to contact me today.
Contact me:
David H. Boggs, MS
Technical SEO
Google Ads
Boothbay Harbor, Maine
Boston, Massachusetts
Contact