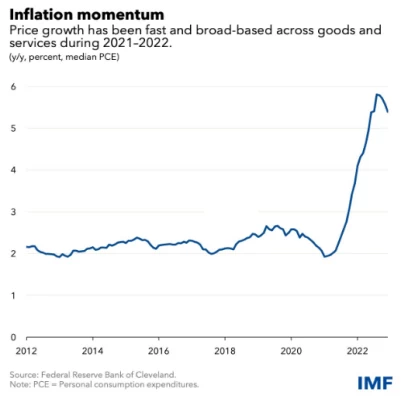 Recent surveys by the National Association for Business Economics and the Conference Board found that 72% of economists polled and 98% of business CEOs believe that a recession - defined as a fall in Gross Domestic Product (GDP) in two successive quarters, as mentioned by Brian Moynihan (above)- will be coming to the US by the middle of 2024.
What's going on with the economy?
Unemployment is at its lowest level in over 50 years, creating a shortage of available workers to fill available jobs.
That causes employers to raise wages to try to attract workers, and raise prices in order to be able to stay in business while paying these higher wages.
This rise in the prices of good and services across the economy causes inflation - diminished purchasing power of money - as we're seeing right now.
To try to control wage and price growth, and control inflation, the Federal Reserve is increasing interest rates in order to reduce consumer spending.
But inflation will likely continue to be high until unemployment increases and wage growth slows.
As unemployment increases, consumers will cut back on spending, some businesses will become unprofitable and ultimately close for lack of sales, more people will become unemployed, and the entire economy will slow down. That's recession.
How can you continue to get customers and sales in a recession?
As soon as inflation rose to a 40-year high in 2022 and the Fed raised interest rates - making monthly mortgage and credit-card payments higher for consumers carrying balances - people began to spend more judiciously on discretionary goods and services. But they haven't, and won't, STOP spending.
However, at the first sign of a pullback in consumer spending, many business owners panic. Their first thought is to bring marketing in-house, stop advertising and hunker down until the economy recovers.
First marketing efforts to go are typically those that don't produce a measurable return on investment: content marketing, image advertising, social media, branding.
Smaller advertising platforms like Twitter and Snap, and new entrants like TikTok's short-form-video service and Microsoft Bing's AI integration, will be hit hard because they have a smaller ad sales volume and big advertisers consider their efficacy, safety and scalability to be largely unproven. Advertisers go where their audiences are, and more are at Google than anywhere else.
And it's not just small platforms that are losing advertising dollars to Google. In 4Q2022 Google's ad revenues grew by 10% vs. 4Q2021, while average CPM for Facebook parent Meta's ad inventory was down 22% from 4Q2021.
Google alone has demonstrated over a significant period of years the consistent ability of its advertising programs to get buyers to the bottom of the funnel, and savvy advertisers won't be switching horses with a likely recession only months away.
As the 2023 downturn continues, money will increasingly rush to Google, as businesses try to increase their piece of the shrinking pie by taking market share from competitors.
Meanwhile, for Google, it will become more difficult to find consumers who have intent to buy, which causes ad impressions to go down and the price of clicks to go up.
For advertisers, that means that return on ad spend (ROAS) and overall business profitability will shrink.
Google Ads statistics for 2022 bear witness to these facts. Although 78% of industries saw higher clickthrough rates:
57% saw higher costs per click - up by an average of 2% from 2021
91% saw a lower average conversion rate - down by an average of 14%
91% saw higher costs per lead - up 19%
But despite these higher costs, businesses continued to put more than 80% of their pay-per-click (PPC) ad spend to Google Ads.
In 2022, Google Ads costs increased by 5% to 19%, depending on business sector, and in 2023 are expected to increase by even greater margin of 20%-30%. When Google click prices become insanely overinflated so that very high ad spends are required to get conversions - as is happening right now - some businesses will stop advertising altogether or try to maintain sales by switching their ad spend to lower-priced media, and Google click prices will come down.
When that happens, if you've hung in there with Google Ads, you'll be able to get lower-priced leads and more conversions.

If you're tempted to stop advertising in 2023 - or not ever to start it - consider the conclusions reached by Henry Ford after his company lost $88 million - more than $1.9 billion in 2023 dollars - in the Great Depression of 1932-33:
"The way out of the depression is to start spending and doing things."
"A man who stops advertising to save money is like a man who stops a clock to save time."
The key thing is: to do whatever it takes to keep your Google Ads running through the bad times so you can stay in business, continue to get new customers into your pipeline, and get ahead of competitors in the upturn.