Get Verified and Keep Your Google Ads Running!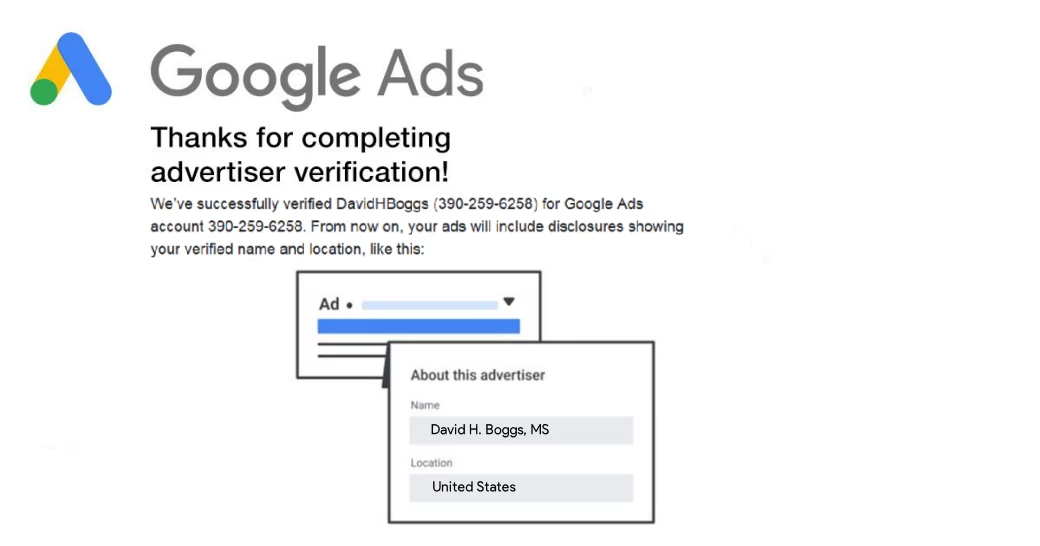 "To provide a safe and trustworthy ad ecosystem for users, and to comply with emerging regulations, Google will require advertisers to complete one or more verification programs."
Google Advertising Policies Help
Has Google paused your Google Ads account, given you a deadline to get verified, or notified you that you're "eligible" (read "targeted") for advertiser verification?
Don't let Google stop your Ads. You can get results from Google Ads faster than from any other channel - it's as close as you can get to a sure thing. Fight back!

Ready to do your Google Advertiser Verification? Get expert help now!
I'll work with Google to help you complete whatever advertiser verification program applies to your business.
For any US Google Ads account: Pending further rollout by Google, I'm able to do US-based Google Ads accounts only at this time.
Fast turnaround: I'll start work on your verification within 24 hours.
Pricing from $200 - fully refundable. If I can't fix your Google Ads account, I'll give you 100% of your money back. No questions asked.
I also do Google Ads campaign management and SEO. Ask about package deals.
Contact me today for more information:
Please complete all the fields.