It's a fact: readable copy converts better. Website copy, ad copy, e-mail copy. Whatever it is you want people reading your copy to do, more of them will do it if your copy is fast and easy to read and comprehend, and uses the language that your prospects themselves use when talking about offerings like yours.
A slick online tool that will give you - free and in just seconds - readability scores (US school grade levels) on any web page or piece of copy is available here from Pennsylvania-based Internet marketers WebFX: https://www.webfx.com/tools/read-able/check.php .
To test the tool, I sent it off to grade our ACRO Global agency ABOUT page http://www.ACROGlobal.com/about.htm , the top part of which looks like this:
At WebFX.com, to start the test, I just entered the URL and clicked the CALCULATE READABILITY button: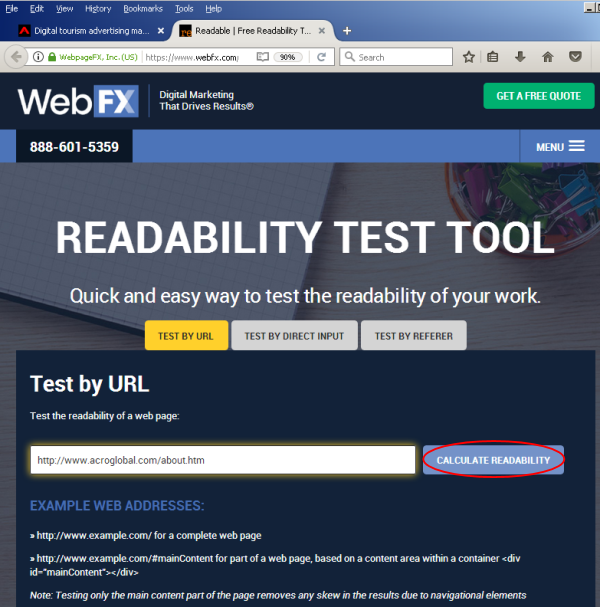 This immediately produced a one-sentence summary report, along with numerical scores for 6 different readability measures, and red-amber-green difficulty indicators: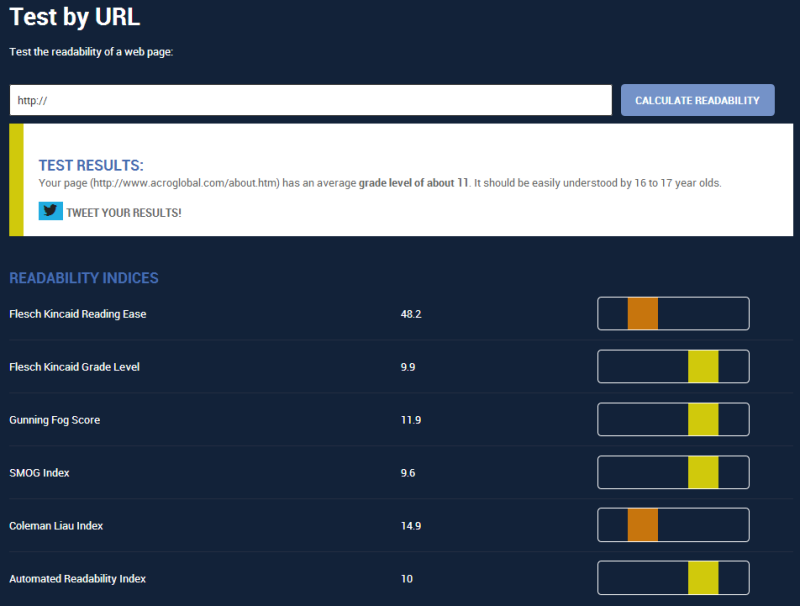 Happily our page got no RED scores on any of the 6 scales!
Just so you appreciate all the work the WebFX tool has done for you, here's how these 6 readability measures are calculated:
Flesch-Kincaid Reading Ease
Unlike the other 5 measures that score by US school grade level, the Reading Ease score in on a 100-point scale

and requires a conversion table to get at grade level:

The Flesch-Kincaid Grade Level score comes from this formula:

The Gunning Fog Score comes from:
The SMOG Index from:
Coleman-Liau Index from:
where:
L is the average number of letters per 100 words
S is the average number of sentences per 100 words
And the Automated Readability Index from:

After having done all that, at the bottom of the page the WebFX tool gives you - for your own fine-tuning pleasure - stats on your copy:
Number of sentences

Number of words

Number of "complex" words

% of "complex" words

Average words/sentence

Average syllables/word
Very slick. Happy editing!