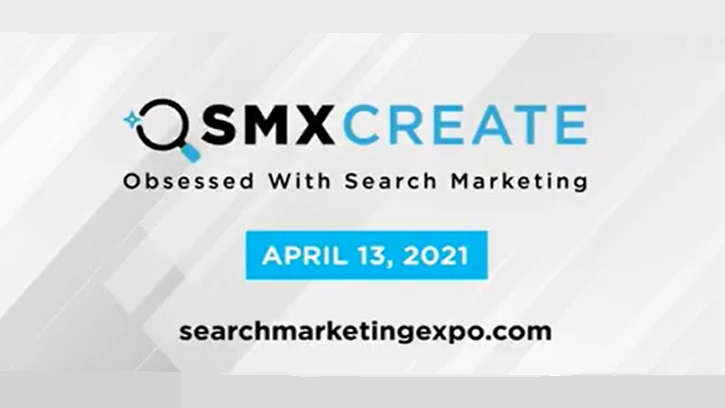 Search Engine Land will present SMX Create: Content & Copy Training for Search Marketers online tomorrow.
From Search Engine Land:
"After attending SMX Create, you'll be able to…
Develop and execute a successful content strategy

Craft compelling ad copy

Optimize your landing pages

Identify winning ad copy through A/B testing

Navigate recent industry changes that directly impact the value of content"
Conference is organized into 2 main tracks, SEO and PPC.
Organizers recommend you watch one live, view the other on-demand.
Speakers will include:
SEO Track:
Aja Frost, Head of EN SEO, HubSpot

Barry Schwartz, SEO Editor, Search Engine Land

Alli Berry, SEO Director, The Motley Fool

John Shehata, VP/Global Audience Development Strategy & CRM, Conde Nast

More...
PPC Track:
Patrick Gilbert, Executive Director, AdVenture Media Group

Matt Van Wagner, President, Find Me Faster

Karen Hopper, Senior Data Strategist, M+R

Julia Thiel, Executive Creative Director, 3Q Digital

More...
Conference begins at 11 AM Tuesday 13 April 2021 with a keynote speech on "Humans vs. Machines" by Search Engine Land Editor George Nguyen and Director of Search Content Carol Lynden.
At 3:35 PM, Matthew Capala, Founder/CEO, Alphametic will speak on The Psychology of Content.
Following clinics and meetups, the conference program will end at 5:30 PM.
On Wednesday and Thursday, 14 and 15 April, several workshops will be offered (for additional fees).
Cost of an individual conference pass is $149.
All sessions (but probably not the additional-fee workshops) will be available for viewing on-demand as soon as completed.
Conference agenda packs a lot of material into the Tuesday agenda, and at $149 is probably a good deal for entry- and mid-level SEO and PPC practitioners, especially considering you'll have no travel expenses and can view all the sessions either in-person in real time or later on-demand.