Whether you're looking for high-ROI AdWords keywords to buy, or trying for the purpose of writing online copy to find out how people searching online for offerings like yours are expressing what it is they need, you need to research search-query terms - keywords - in current use.
Three basic factors that enter into the intelligent choice of keywords are:
Search volume: the number of searches on the keyword per month; the popularity of the term with searchers. (Why use a keyword that nobody uses in searching?)

The cost per click (CPC) of the keyword in paid search (e.g., AdWords). (Is the keyword relevant enough to your offerings, and does it offer sufficient likelihood of conversion, to justify the price of a clickthrough?

The level of competition for the keyword. If a lot of your competitors are using it, you may have trouble cutting through that noise. And in paid search, your CPC will likely be higher also. But occasionally you can find that rarest of items: a keyword that matches your offerings, has a large search volume, and is available in AdWords for a low price.
There are many tools available that can suggest keywords and give you some or all of those pieces of information. But except for the free Google tools, most cost money by way of up-front purchase price and/or ongoing subscription.
A happy exception is Ubersuggest, a free online tool from developer Neil Patel. Especially for a free application, Ubersuggest has a surprisingly complete set of useful features, including:
Can search your choice of Web pages, images, shopping, YouTube and news

Can to do searches for keywords in many different languages

Is very fast

Uses Google data: it grabs keyword suggestions from your choice of Google Keyword Planner, Google Suggest or both

Has filters that can include or exclude words in your keyword search results

Can export your search results to a CSV file, which you can then use to add keywords to an AdWords campaign, or to generate multiple permutations and combinations of phrases.
To start using the free online version of Ubersuggest, just go here:
https://neilpatel.com/ubersuggest/
and you'll see a screen like this:
Select a logical keyword or phrase from which to stem out to find related terms, and enter that in the box at bottom left. Keep it general at this point; the tool will provide all the detail you can ever use. (In the example below, I've used "visit maine".) Choose "Web" or one of the other options on the first dropdown menu, choose a language from the second dropdown, then click LOOK UP.
My "visit maine" query got the following top-line results:
So right away we know Ubersuggest has identified 835 relevant keyword suggestions that have a monthly aggregate search volume of 2900 searches, an average CPC in AdWords of US$0.34, and an average level of competition of 0.29 on a scale of 0 to 1.
Below the summary information you should see a long, alphabetical list of keyword suggestions. Here's just the top of the list I got:
In a column on the left side of the page beside that list you should see the 3 boxes below:

Here you can:
Choose where keyword suggestions come from

Add inclusion filters for words you want to see in your results

Add exclude filters for words you don't want to see in your results (Like: if you're running a campaign for the Bar Harbor DMO, you probably don't want keyword phrases that include Ogunquit.)
The only change I made to this was to add an include filter for "summer" (where "e.g. new" appears in the screenshot above. That narrowed my list down to this (only top 10 shown):
Then I decided I didn't want any suggestions about "places" - which might be a reasonable thing to do if you only want keywords relevant to a specific destination. Using the negative keyword "places" further reduced my list (only top 10 shown again):
Notice the great potential as a keyword phrase of "things to do in maine in summer": it's getting 720 searches a month, costs only $0.98/click on AdWords, and has competition at only 0.14 out of 1.00.
At that point, being satisfied with my list, I went to the bottom of the page where this resides:

For your CSV export, you can either select from the list the keywords you want included and manually check the boxes at left, or to include the full list, just click SELECT ALL, like this: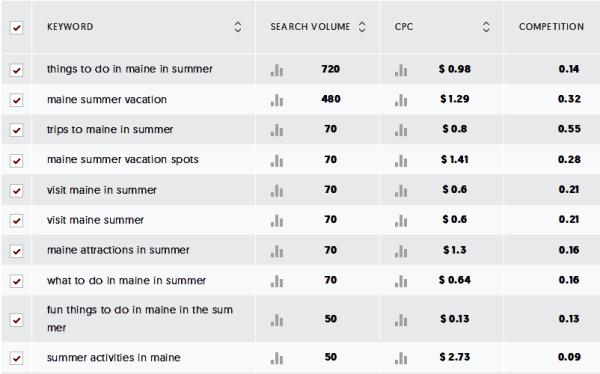 Then just click EXPORT TO CSV and Ubersuggest will do that and produce a CSV file that you can download, save and open in Excel, like this:
Not bad for a free tool!
Give Ubgersuggest a try, and let me know what you think. And especially, if you should get a success story from using Ubersuggest, please let me know, and I'll it post here.