SeoQuake is a fast, powerful, FREE browser extension you can use to check many SEO attributes of any Web page or domain. SeoQuake - developed by SEMRUSH, a provider of subscription-based Web analytics tools - is available for Chrome, Firefox, Opera and Safari.
Some of the features of SeoQuake require signing up for a free trial of SEMRUSH, subscriptions to which start at $99.95 a month. But the browser extension has some good free analysis features including for any Web page analyses of:
Page titles and meta descriptions

Keyword counts and density - 1,2,3 and 4-word phrases

Backlink counts

Internal and external outbound links (clickable)

Text and display ads

SEO performance

Facebook likes and Google +1s

Comparison to other domains/pages
In the example that follows, I'm using SeoQuake for Chrome.
To get the SeoQuake extension, just go to the Chrome Web Store, find SeoQuake, and click Add to Chrome:
In the example, we're going to look at the New York State tourism website ILoveNY.com (https://www.iloveny.com/):
In that screencap, the SeoQuake icon is at top right (at red arrow).Click that to begin.
You will probably first see the SeoQuake "dashboard" view, which gives you some summary information about the page and the domain, like this:
Note that here we're at the Parameters tab.
The Backlinks and Traffic Analytics tabs only work with the free trial of SEMRUSH, which I'm going to pass up. But the Display Advertising tab works, and shows us this: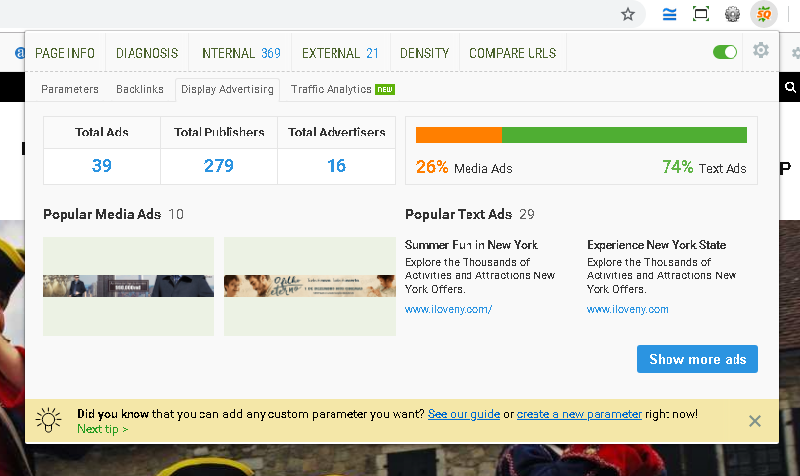 You can see there counts of ads, publishers and advertisers, and the 26-74 distribution of display ("media") vs. text ads. (Clicking Show more ads will once again send you to the SEMRUSH free trial signup page.)
Clicking on PAGE INFO at top left opens a page that looks like this:
and shows:
Page title

Meta keywords (none in this case)

Meta description

Internal outbound link count

External outbound link count

Server software

Various statistics for the page and the domain

Backlink count
and below that, Keyword Density with counts and density for all 1,2,3 and 4-word terms in the page, and indicating those that occur in the Title, (T) Meta Keywords, (K) or Headlines (H1 etc.):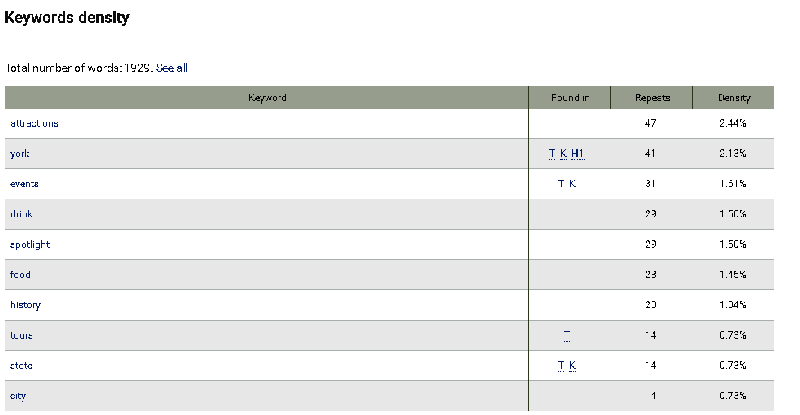 Then going to the Diagnosis screen (link at top of page) shows us the PAGE SEO AUDIT including analyses of:
URL character count

Canonical tag

Title character count

Meta description character count (SeoQuake says that "160-300 characters" is "optimal" but in my experience anything past 150 or 155 will get truncated by Google.)

Meta keywords

Headings - H1 through H6

Image ALT attributes

Text/HTML ratio (which SeoQuake says should be at least 15%)

Frames

Flash

Microformat markup

Schema.org markup

Open Graph objects

Twitter Cards

AMP version

META viewport tag

robots.txt file

XML sitemaps

Language specified

Doctype

Encoding language

Google Analytics code

Favicon
Moving to the INTERNAL screen, we can see the code of each outbound internal link, with the option to download as a CSV file.
Note that CSV files produced by SeoQuake use the European semicolon data delimeter instead of the US comma. To get these CSV files to open normally in US Windows PCs using MS Excel, you need to first open them as text file, find and replace all semicolons with commas, save file, re-open, select all of COLUMN A, and on the Excel menu do Data|Text to Columns, save as XLS.

If any of the "Domain params" on the right side of the page are showing a little squiggle icon instead of a number, just click the Request all parameters button at top left.
And similarly for EXTERNAL LINKS:
Keyword DENSITY we've seen before - but this screen does add a search filter and a clickable keyword cloud:
COMPARE URLS/DOMAINS lets us compare our domain with one or more others (competitors, etc.) on various metrics (can be downloaded as CSV):
While I don't find SeoQuake the easiest tool to use - would probably be easier to understand if integrated with SEMRUSH, but I wanted to see the free features - and some of these are very good:
The Keyword Density analyzer, which works instantly and can be run on any page of interest and looks at multi-word phrases that translate directly to long-tail keywords for Google Ads

The internal and external link codes, that reveal useful keywords

The quick on-page analysis of the PAGE SEO AUDIT which includes things not found in other free tools, like an extensive checklist of attributes and calculations of URL length and text/html ratio

Availability for 4 popular browsers
For more tips on using the tool, SEMRUSH's SeoQuake docs are here: https://www.seoquake.com/guide/ .
All in all, a useful addition to anyone's kit of free SEO and SEM tools.