It shouldn't be news to you that the number and quality of links to your website are key to ranking highly in Google organic search.
Link Explorer is a new tool from marketing and analytics software provider MOZ, available as part of the paid MOZ Pro bundle, but also free for up to 10 queries a month.
Tool and explanatory video are here: https://moz.com/link-explorer
Below are some of the things Link Explorer can do. In the example, I did a query on our news site TourismMarketer.com :
The Overview screen shows Domain Authority (ranking potential on a scale of 0-100), number of Linking Domains, number of Inbound Links and the number of keywords for which the domain ranks in the top 50 on Google.

Domain Authority isn't bad, plenty of links from several hundred domains - but not easily found in Google search. Too bad!
Below that, there's a time plot of numbers of domains linking to TourismMarketer.com that MOZ discovered in the last 60 days.
Had any links that MOZ found earlier stopped working, there would also be a plot of lost links. But there were none. (Good.)
Next up is a trendline plot of Metrics Over Time - first by Domain Authority, which shows improvement speeding up in February: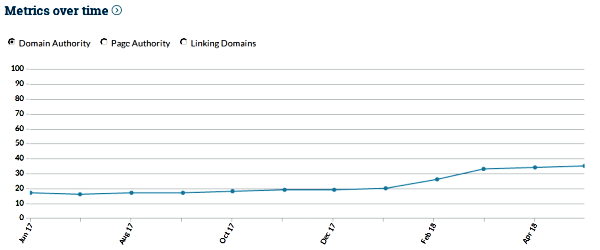 Then using the radio buttons at left we can change the view to show the trend in numbers of Linking Domains: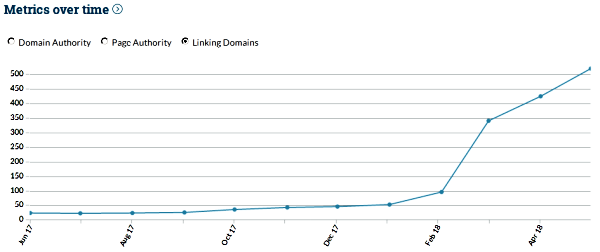 That's a good-looking trend.
Next, the tool shows 4 boxes of additional information:
Top Followed Links, based on page authority

Top pages on TourismMarketer.com, ranked by Page Authority

Top anchor text appearing in link code on linking sites

Numbers of linking domains by Domain Authority
Looks like we need to get some links from sites with greater Domain Authority.
The tool also shows us (in this free version) the top 10 linking domains in descending order of Domain Authority, showing also the numbers of domains linking to these sites, and the domains' Spam Score (scale of 1%-100%, smaller numbers better). Notice that #1 Linking Domain is the media release site PRWeb.com which has Domain Authority of 92 and Spam Score of 1%. Obviously the MOZ tool considers PRWeb to be reliable and authoritative. FYI, PRWeb is in this list because of a media release we bought several years ago for $80. (So don't let anyone tell you that releases to traditional media no longer work.)
The tool also gives us (in the free version) the top 50 inbound links showing URL, Anchor Text, Page Authority, Domain Authority, number of Linking Domains, and Spam Score:
And also the 10 "most valuable" pages of TourismMarketer.com, based on Page Authority, numbers of linking domains and inbound links, and HTTP Status Code (200=OK, 301=Permanently Redirected, etc.):
And finally, a plot of the distribution of Spam Scores for the 518 domains linking to TourismMarketer.com, along with the very key piece of information that only 1% of sites with links having similar Spam Score distributions have historically been banned or penalized by Google.
That's a lot of good information from a free tool.