Using the new, free online backlink checker tool from Neil Patel you can find backlinks to any domain or URL - yours, competitor's, anyone's - including the URL and TITLE of the referring page, the link text on that page, and the URL of the page linked to.
To start using the tool, just go to https://neilpatel.com/backlinks/ where you'll find the input form as pictured above.
Enter any domain or URL on the left as indicated.
Open the dropdown labeled *.domain/* and you're given these 6 options:
In the example that follows, I've used the default option *.domain/* to view all the backlinks to our TopNewEnglandVacations.com site:
Clicking SEARCH produced a detailed list of backlinks, the top part of which looks like this: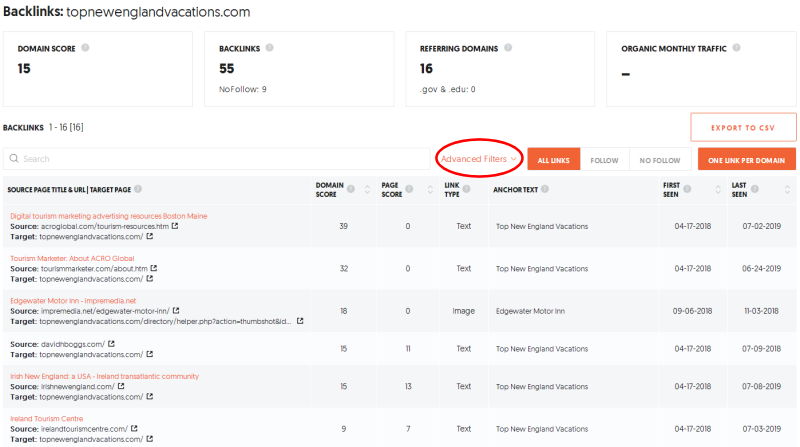 This screen is full of useful information:
Number of backlinks

Number of NoFollow backlinks (which have no SEO value for TopNewEnglndvacations.com)

Number of referring domains

Number of referring .gov and .edu domains (which tend to have more SEO value than other TLDs)

For each backlink:

Link text

URL of linking page (clickable, so you can view page)

URL of target page at TopNewEnglandVacations.com (also clickable)

Domain Score and Page Score (which I recommend you ignore, as being subjective)

Link type (Text or Image)

Anchor text (text or image ALT)

First Seen and Last Seen - dates Patel's crawler first and most recently reported this backlink
Notice also that you have the choice of displaying ALL LINKS or FOLLOW links only or NO FOLLOW links only. And you can also make the tool display just one link per referring domain.
Notice also the Advanced Filters dropdown I've marked in the screencap above.
Behind that link is this input form:

Options there include:
Include vs. Exclude

Referring Domain | Anchor Text | Zone (country code - entering US here will show you referring pages with .us TLDs)
And if you want to take the tool's output offline for further analysis, just click the EXPORT TO CSV link and it will create a comma-separated-value text file backlinks.csv that you can save, open and manipulate in Excel.
To apply multiple filters, just click +Add another filter to open another set of filter choices.
And just to see if I could break the tool by sending it to look at a site with a large number of backlinks, I asked it to check the Maine Office of Tourism's site VisitMaine.com with this result:

Nothing broken there!
Possible uses for this tool are endless. But here are a couple of obvious ones:
Find backlinks to pages that no longer exist on your site and so are sending people who try to click through to 404 error - so you can provide owners of such pages with correct URLs

Find sites that link to your competitors, that you might be able to get to link to yours as well
Happy link-checking!