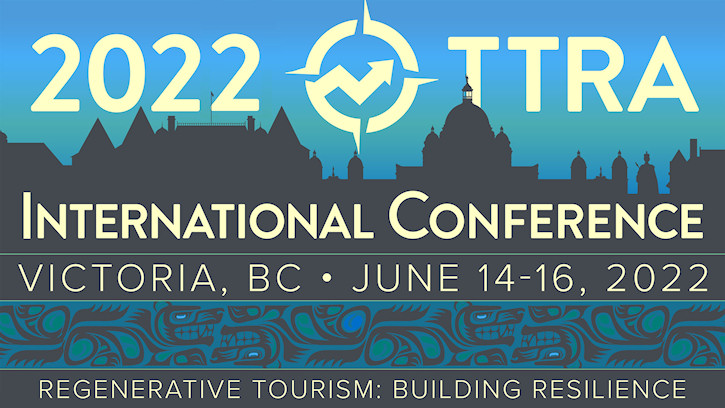 Academic Co-Chairs Drs. Svetlana Stepchenkova, Kevin Kam Fung So and Eugene Tomlinson invite paper submissions from travel and tourism researchers for the Victoria, BC 14-16 June 2022 TTRA International Conference, the theme of which will be Regenerative Tourism: Building Resilience.
Conference will be presented on hybrid mode, with focus on:
Recovery of the global travel and tourism industry and communities in the post-pandemic era

Increasing resilience to crises

Sustaining resources

Distributing tourism benefits fairly
Organizers are seeking conceptual, quantitative, qualitative, mixed-method and state-of-the-art papers, and data-intensive studies, that address the following sub-themes:
Regenerative Tourism

Community Resilience

Remeasuring Success in Tourism

Tourism, Happiness, Health and Wellness

COVID-19 Lessons

Focusing on data-influenced decisions to regenerate tourism and build resilience
Also invited are papers that explore lessons learned and contemporary trends in travel and tourism research.
Program will include traditional Oral Presentations and an interactive Ideas Fair, along with a Qualitative Research Workshop and a Graduate Student Colloquium (both fully online).
Hospitality and tourism practitioners are invited to submit proposals for industry round-table sessions focusing on pertinent issues facing the industry via e-mail to 2022Conference@ttra.com attention Esra Calvert.
Abstract Requirements for academic papers
Graduate Student Colloquium: not to exceed 1500 words
All others: not to exceed 3000 words
Key dates:
15 January 2022: Extended Abstracts due

15 March 2022: Abstracts accepted

15 April 2022: Full papers or revised Extended Abstracts due
The fine print is here: https://scholarworks.umass.edu/ttra/
More information is here: 2022Conference@ttra.com