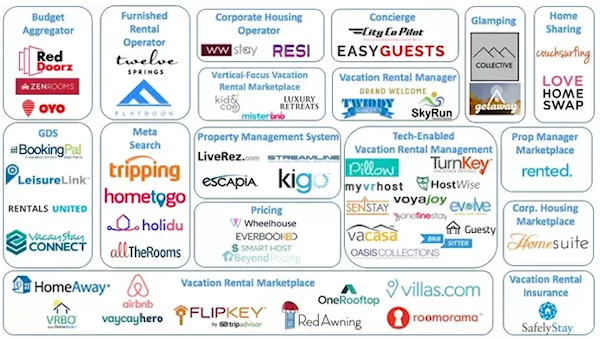 World's largest commercial real estate service and investment company CBRE Group (aka Coldwell Banker Richard Ellis) has published a report entitled Short-Term Rentals - A Maturing U.S. Market & Its Impact on Traditional Hotels.
Although this report is slanted toward the impact of short-term rentals (STRs) on hotel valuation and investment, it also contains some interesting information on the competitive positioning of STRs vs. hotels in some major US lodging markets.
Some fast facts:
STR unit numbers reached 10.4% of hotel rooms in 2019 (vs. 2.0% penetration of flex vs. commercial office space) as 100,000 net STR units were added.

STR numbers grew by 39% in 2018, 26% in 2019 and are expected to grow another 19% in 2020.

Most recent growth in STRs has been in suburban and rural areas - distribution by location in 2019 was:

20% in resort areas

14% urban

10% small metro/Interstate

7% suburban/airport

Guests consistently say they choose to stay in STRs because of their price and location.

STR rental is a $115B/year industry in the US (2019).

In the top 30 US markets, 54% of STRs were houses in 2019, 42% apartments/condos/lofts.

US markets most penetrated by STRs (related to high ADR and many leisure travelers) are:

Los Angeles (22.3% of hotel rooms)

Miami (19.1%)

Minneapolis, Seattle, Denver and Boston had penetration increases of less than 0.5% in 2019, and New York saw a decrease for the first time.

The 2019 ADR for STRs exceeded that of hotels in only 7 US markets: Norfolk/Virginia Beach, Nashville, Fort Worth, Atlanta, Detroit, Charlotte and Dallas.

More than 35% of STRs are located more than a mile from the nearest hotel.
Some interesting quotes:
"Despite record hotel occupancy levels since [2015], the influx of STR units and an expanding supply of traditional hotel rooms has curtailed hotel managers' ability to further raise ADRs."
"Resort/rural locations ...continue to outperform [on RevPAR] the national average even with high concentrations of STR units."
"Many of these rental units have been available for decades. The growth in penetration is a result of these units only now making themselves available in the online booking platforms."
"The progressive rise of professional operators since 2017 is evolving further with the advent of new businesses focused entirely on managing and marketing short-term rental units."
"Professional operators, buoyed by hundreds of millions of dollars in private equity investment, have taken an arguably inferior product and helped transform STRs into a mainstream alternative for those seeking temporary accommodations."
Comments:
Important takeaways I see here for operators of any kind of lodging properties catering primarily to leisure travelers are:
STR booking platforms like Airbnb are largely responsible for the surge in STR penetration. Lodging properties of all types need to find ways to take advantage of these.

If you have a STR located in a resort or rural area with few or no nearby hotels, you're golden, at least for now.

Whole-house STRs are going to be hot in 2020.

In some markets, STRs can compete against hotels while charging higher rates. (Why is that? Is your market one? Sounds like an opportunity.)

Everybody - individual STR hosts, innkeepers and hoteliers - needs to keep an eye on what those "professional operators buoyed by hundreds of millions of dollars in private equity investment" are doing, because they are creating competitive advantages for themselves by branding and scaling up.