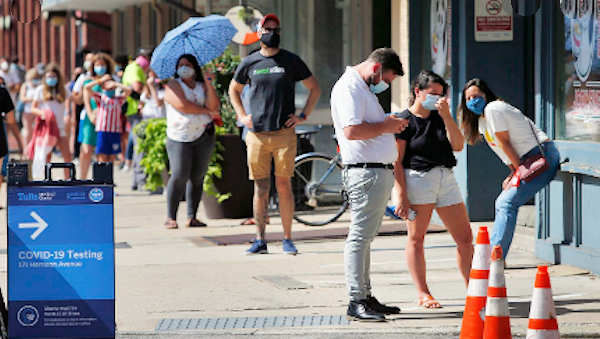 Bostonians queued up for COVID-19 testing - July 2020
Throughout the Northeast this summer we've seen ever-changing requirements for traveling between states.
Popular summer destinations Vermont and Maine have had some of the toughest restrictions on residency of visitors, gathering size, restaurant and bar service, hotel openings, retail, campgrounds, quarantining, testing and more.
Currently, the only Americans who can visit Vermont without quarantining are residents of counties of New England, NY, PA, OH, NJ, DE, MD, DC, VA and WV having fewer than 400 active COVID-19 cases per million of population.
And the only out-of-staters who can visit Maine without quarantining or testing are residents of NH, VT, CT, NY, and NJ.
Unfortunately for summer 2020, Massachusetts is the #1 geographic tourism market for both Vermont and Maine.
Only Barnstable County in Massachusetts has a low enough incidence of COVID-19 for its residents to be welcomed to Vermont without quaranting.
And Maine requires quarantining or testing of ANYONE visiting from Massachusetts.
These restrictions on visitors from Massachusetts have had devastating impacts on tourism businesses in Vermont and Maine.
Tourism officials have begged and pleaded for a softening of these restrictions, but that hasn't happened. And in any case it's too late for summer 2020.
But isn't it possible that residents of Massachusetts didn't want to visit Vermont and Maine in summer 2020?
To find out, I used Google Trends.
Google Trends shows how a given search term is used in Google queries relative to total search volume over a given period of time. Google Trends data can be sorted and filtered by geographical region and time period to discover spikes in keyword search volume related to unfolding events.
So it should be possible to see how many searches were done from Massachusetts on topics related to travel to Vermont or Maine during summer 2020, and how the frequency of those searches compared with past data.
So starting with the search term travel at https://trends.google.com/trends/?geo=US , with time period set at Past 90 Days, the initial Google Trends screen looks like this: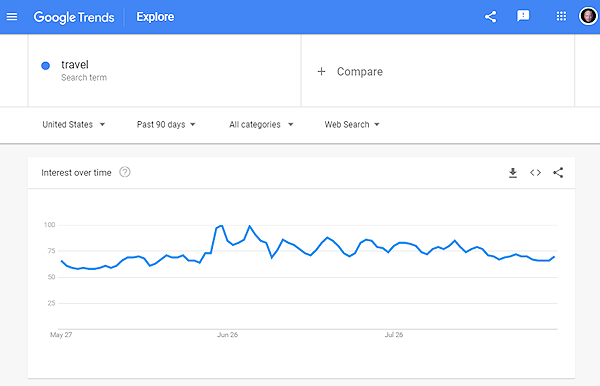 To see the level of interest in Massachusetts, it's only necessary to go down the page below that trendline and scroll through the 51 subregions (50 states plus DC) to Massachusetts, and click on that: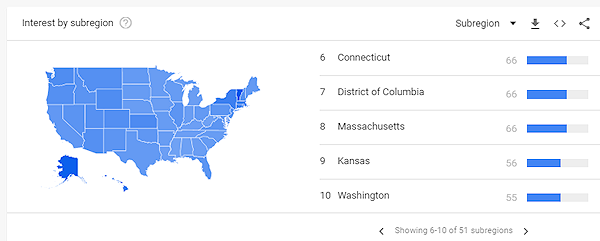 The trendline for travel searches in Massachusetts in the Past 90 days then looks like this:
Notice that in July, people in Massachusetts were searching travel more heavily than the US average.
Below that on the page is a graphic showing relative level of interest by metro area (actually Nielsen DMA):

Deepness of the shade of blue shows level of interest: Springfield-Holyoke most interested, Boston-Manchester close behind, Providence-New Bedford not much interested.
Finally, below that Google Trends shows Related Topics and Related Queries:
Note that searches from Massachusetts for the states of Vermont and Maine were 1050% and 800%, respectively, above normal.
And Google Trends scored increases in queries for "vermont covid travel restrictions" and "state of maine travel restrictions" at "Breakout" level, meaning at least 5000% above normal: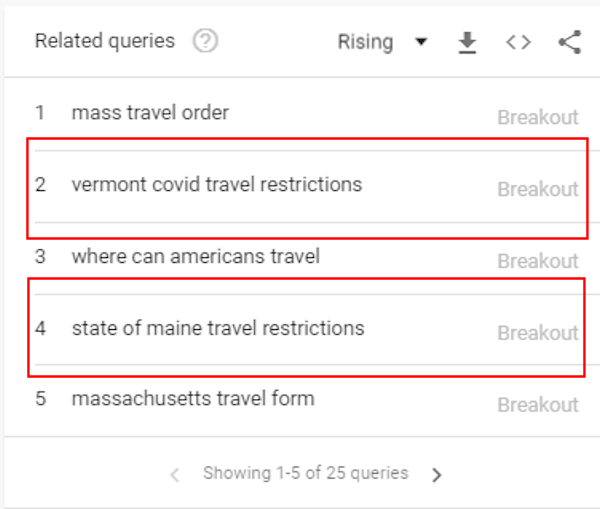 Were people in Massachusetts interested in visiting Vermont and Maine this summer? You bet!
And some did, complying with the states' restrictions or not. But not enough to save all of the many small tourism-related businesses that get the lion's share of their annual sales in the months of July and August.
Let's hope for a better summer in 2021.