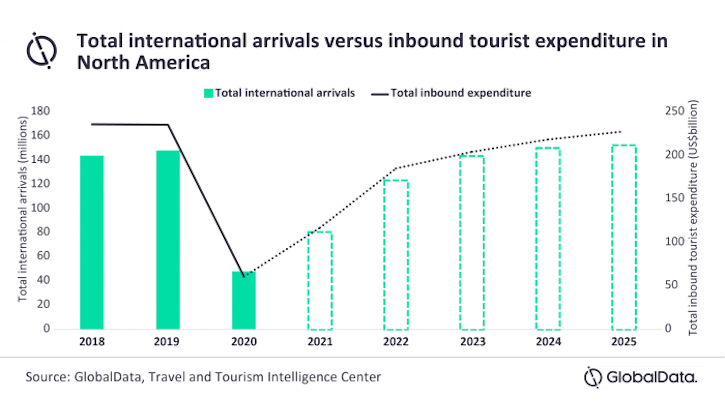 In a new report entitled Tourism Destination Market Insight - North America (2021), London-based analytics consultancy GlobalData Plc (DATA on the London Exchange) projects that tourism spend in North America - Canada, the US and Mexico in aggregate - won't recover to 2019 levels until at least 2025.
GlobalData estimates that international arrivals to North America in 2020 were down by 67% from 2019 levels, spend down by 74%.
GlobalData calculates that although domestic arrivals may recover by 2022, and international arrivals by 2024, total tourism spend likely will not recover to 2019 levels until 2025 or later, and that this will be one of the most important factors hindering economic recovery in North America in that timeframe.
GlobalData's calculations are based in part on their survey finding that 23% of global households have reduced their total spend "significantly" and another 27% "somewhat" in the past year.
Because of proximity, airline and highway connectivity, and competition among carriers and operators, GlobalData expects travel among Canada, the US and Mexico to be the major driver of tourism recovery in North America for the next 5 years.
Comment: It's time to up your North America marketing. US is almost certain to reopen its land borders with Canada and Mexico in September. Get ready.