New data from travel ad tech firm Koddi show that since March 2020 US hotel demand as measured by numbers of online searches has varied inversely with the number of new COVID-19 cases being reported.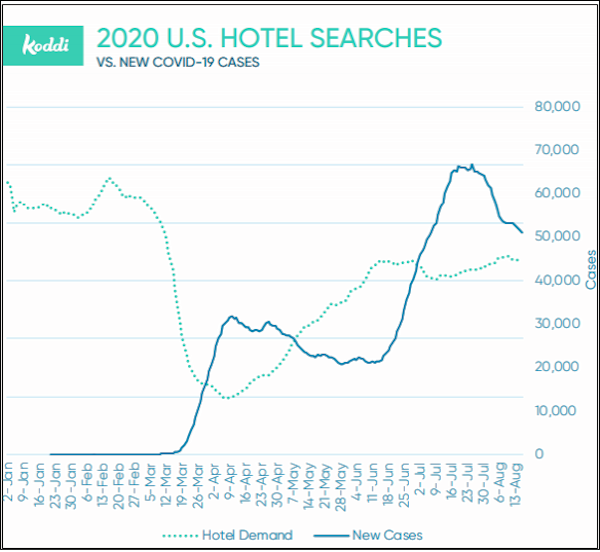 Peaks in new virus cases that occurred between 26 March and 7 May and again between 2 July and 13 August suppressed hotel demand, while the period 7 May through 25 June - when new cases were on a downswing - saw hotel demand rise steadily to a level last previously seen in the week of 12 March.
These data seem to indicate that consumers have safety concerns about staying at hotels when spread of COVID-19 is on the rise.
Major brands are responding by putting into place new cleaning and safety precautions designed to keep guests and employees safe from COVID-19. (A list of these plans is here.)
For example, here's one very key point from Accor Hotels "All Stay Well" wellbeing platform:
"Validation under the new global ALLSAFE Cleanliness label, which confirms and commits to guests that the new standards have been met in Accor properties worldwide. All Accor hotels must apply the global and regional standards and be audited either by the Group's operational experts or third-party auditors to achieve the new ALLSAFE label."
Every lodging company needs to create, convey to employees and guests, and enforce a mandatory and understandable set of protocols for protecting employees and guests.
However: at the height of the tourist season (such as it is in 2020) here in the town where I'm writing this, looking at the websites of 3 of the largest hotel/resort properties here I find 2 with no visible mention of COVID-19 health or safety, and the 3rd with a 2-sentence, platitudinous blurb dating from March.
In a year when every lodging company and property needs every edge it can get to stay open, keep workers employed and pay banks, taxes and suppliers: I believe the owners of those properties are leaving money on the table by not reassuring potential guests about COVID-19 safety.
Everybody please just create and publish a plan, for the benefit of all.