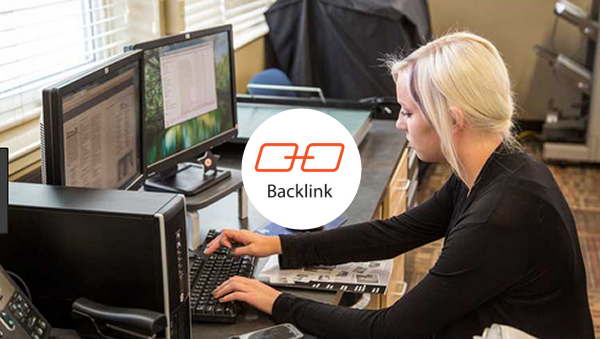 Number and quality of backlinks is one of the most important ranking factors used by Google organic search. If you want to find out where your most valuable banklinks are coming from, read on.
Netherlands-based SEO Review Tools (SEOReviewTools.com) offers a suite of 37 free online tools you can use to evaluate and improve the optimization of your website for organic search, particularly for Google.
Among their tools are a Most Valuable Backlink Checker and a Bulk SEOMOZ Authority Checker .
I'm going to show you how to use these tools to identify the most valuable backlinks to your (or any) Web page or domain, using our ACROGlobal.com site as an example.
The Most Valuable Backlink Checker start page with my URL filled in looks like this:
"This page" tells the tool to just check a single URL - in this case the home page of ACROGlobal.com. You have the option of checking the entire domain, but checking one page at a time makes results easier to understand.
The top-level results page that comes back looks like this: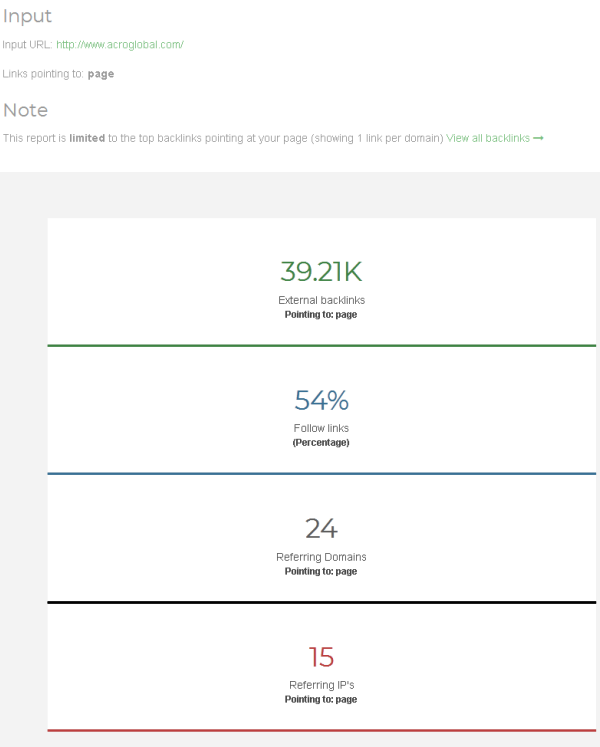 That's showing:
Total number of external backlinks to the home page
% that are potentially more valuable FOLLOW links that can improve your Google PageRank(as opposed to NOFOLLOW links that don't)
Number of unique domains from which the backlinks come
Number of unique IP Addresses from which backlinks come
Below that are listed on the Backlinks Results tab what the tool believes to be THE most important link from each linking site:
Here for each link you can see:
The favicon of the linking site

The URL of the linking page

The anchor text of the link, which when meaningful and relevant (vs. e.g., "Click here") gives search engines a clue as to what they'll find on the landing page

A "NO FOLLOW" indicator

Domain Rating as determined by Ahrefs.com on a scale of 0-100 based on the relative strength of the linking site's own backlink profile (Big numbers are good.)

The total number of links to our page from each linking domain

A button we can click to find the MOZ Domain Authority and Page Authority of the referring domain/page (More on that later)
Switching to the Most Popular Anchor Text tab we get a view like this:
This screen shows each anchor text with the number and % of instances that it's used across all linking sites; also a Check Rankings dropdown with links to other interesting tools that I'm not going to get into here.
The Most Popular URLS tab is irrelevant in our case because we're checking just one page. Had we sent the tool to look at the entire website, it would have told us here the numbers/%s of links to various pages.
Now, returning to the Backlink Results tab, if we click the Check button beside the link from https://www.topseos.com/ we're sent to the Domain Authority & Page Authority Checker tool, which looks like this:
Clicking the Perform Check button at the bottom of that page brings up this screen: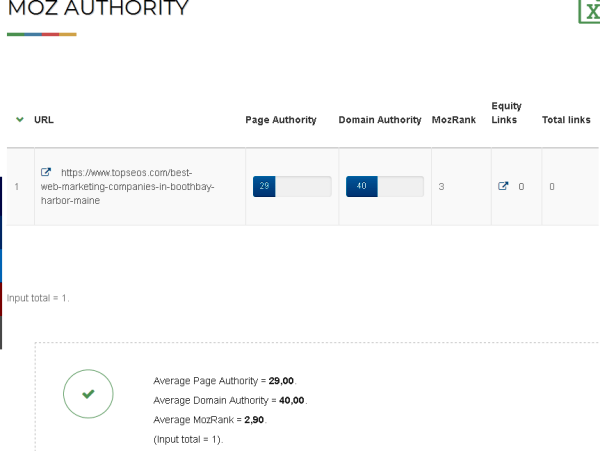 This shows us, for the page on topseos.com that links to our home page:
Page Authority: 29 on a scale of 0-100

Domain Authority: 40 on a scale of 0-100

MozRank link popularity score of topseos.com: 3 on a scale of 1-10
Those data give us further insights into the value of the link from topseos.com.
If you after reading this you believe as I do that the 2 tools we've looked at are useful, create a free account at SEOReviewTools.com and check out the other 35.

(FYI, SEO Review Tools hasn't compensated me in any way for this review.)