There are many tools for finding broken links in web pages, but Check My Links is one of the fastest.
To get started, just fire up Chrome, click the Check My Links hyperlink above to get to the extension's page in the Chrome Web Store, and click the Add to Chrome button. You should then see this new little icon at top right in Chrome:
Then, open any web page to check for bad links that produce 404 errors. For purposes of example, I've used our ACRO Global "About" page http://www.acroglobal.com/about.htm. After going to that page and clicking on the Check My Links icon, this is the top part of what I saw:
Notice the links in the navbar and in the copy that are highlighted in green. Those are all good links.
And at top right you can see the summary report as to what the tool found: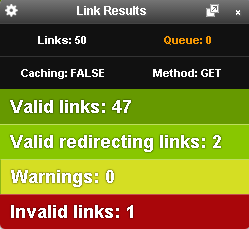 47 good links

2 valid redirects

No warnings

1 bad link
Here near the bottom of the page is the bad link, highlighted in red: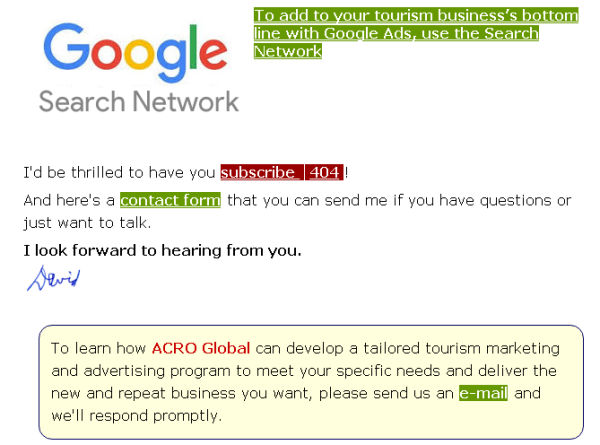 That link is bad because the path to the Subscribe page on DavidHBoggs.com was recently changed, but we failed to carry the change over to ACROGlobal.com.
So Check My Links has already made a valuable contribution for us.
And that's not all: by clicking the download link at top right in the report
you can download a CSV file of all the broken links and copy it to Notepad, Excel, etc.:
And last but not least, you can get the HTTP response codes and full URLs of all the broken links from the Chrome Javascript Console log just by doing Ctrl+Shift+J :

A nice free tool from Phoenix-based developers Page Modified (who have not compensated me in any way for this review).