Want a very quick check of 20+ SEO-related parameters of your or any other website? The free Woorank Chrome extension can do that, and it takes only seconds to install and seconds to run.
I'm going to warn you up front: the analysis coming out of the Woorank extension can contain a few minor errors, some of which you'll see in the example below. But the good stuff it produces more than makes up for them.
First just fire up a recent version of Chrome, go to the Chrome Web Store, search in Extensions for Woorank, and you should end up here:
Adding the Woorank extension to Chrome puts the Woorank icon at top right:
To check any web page, first open it in Chrome. Here's a demo using the home page of our TopNewEnglandVacations.com site, the top part of which looks like this on desktop: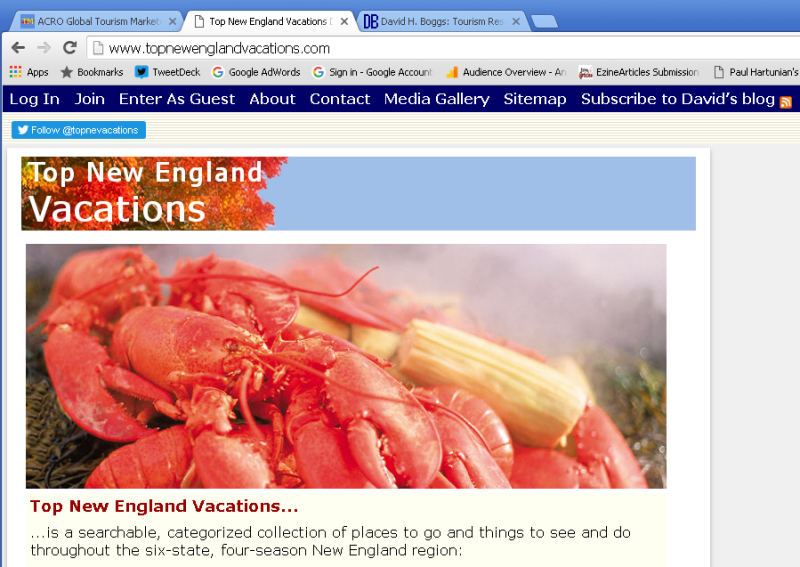 Then run the Woorank extension by clicking on the icon at top right. Woorank should then open a popup similar to the one shown in the following screencaps.
First, high-level overall grade and "Marketing Checklist::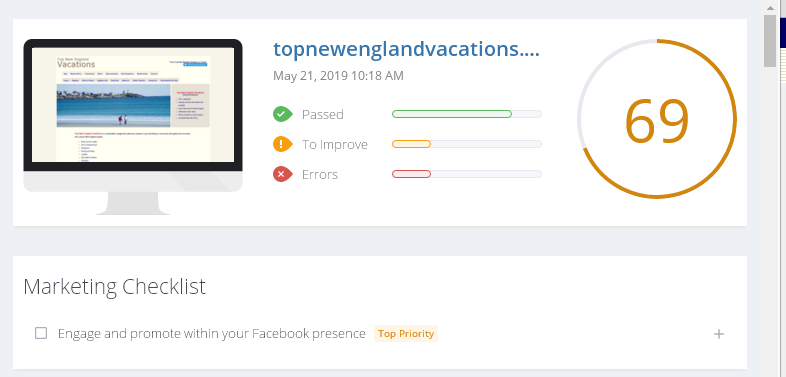 69/100 doesn't sound like too bad a grade, but not great either. Woorank says it has found some things that need To improve and also some Errors.
The Marketing Checklist for this page is all about the fact that it doesn't link to a Facebook account. (There's much detail behind the Top Priority link.) I admit it: there's no Facebook page associated with this page.
Next comes the SEO section:
All. good there except for the Headings item. This page does have some heading tags that the tool has missed. But no big deal.
Continuing the SEO information: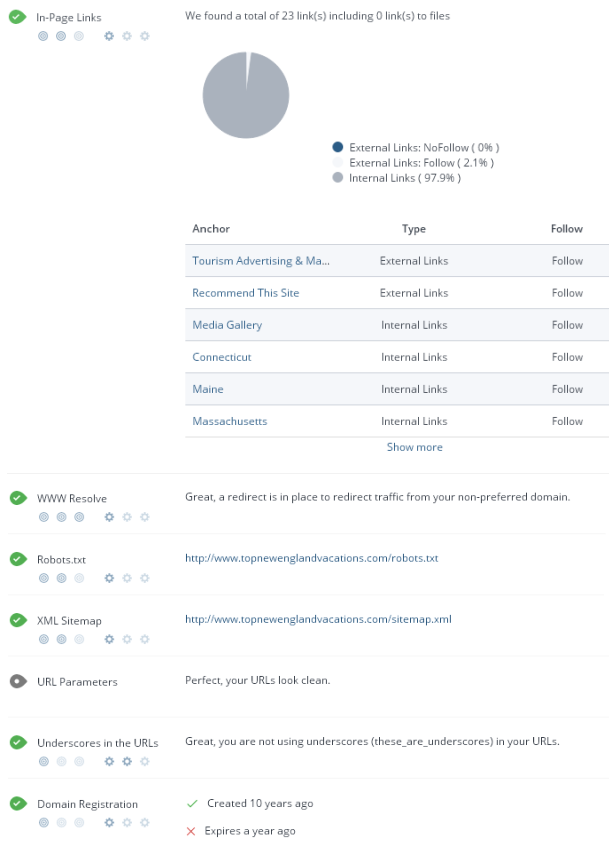 This is showing information on the internal and external links on that page - the anchor text and whether followable (by search engines) or coded as "nofollow".
Then this series of checks:
topnewenglandvacations.com resolves to www.topnewenglandvacations.com - done in Google Search Console - so no duplicate content.
robots.txt file exists to deny crawler access to uninteresting parts of the site.
An XML sitemap exists to help search engines crawl the site.
URLs are free of query strings and other add-on parameters beyond the pagefile names, to keep it simple for search engines.

Some underscores in URLs exist, to show search engines individual words in flenames.

Domain is old - registered 10 years ago - which Google looks on as a sign of trustworthiness.

But domain registration didn't expire a year ago - another small Woorank error.
Next comes Mobile information: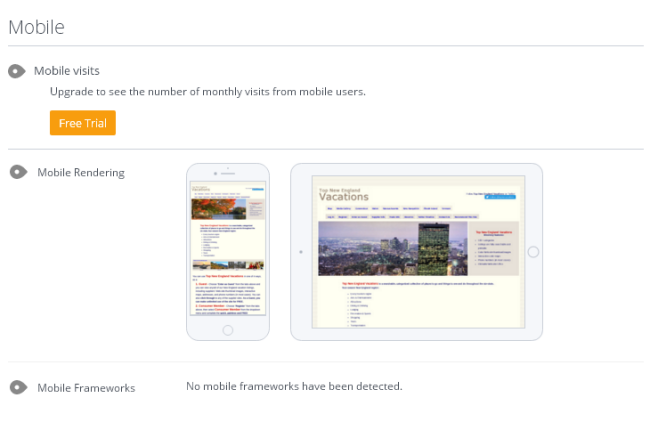 Here, for the first time, and not the last, Woorank has offered us a free trial of something: in this case, number of visits from mobile devices. (Woorank too has to make a buck.)
The tool also shows us here a comparison of the mobile and desktop views of the page. No problem there.
But then it tells us "No mobile frameworks have been detected." There is one, though: this site is built on the W3 CSS mobile framework. The point of this check is do detect non-responsive pages that don't adjust smoothly for different screen sizes. But you can see from the 2 screencaps that this page does do that well. Again, a false positive by the tool, no big deal.
Next come usability checks: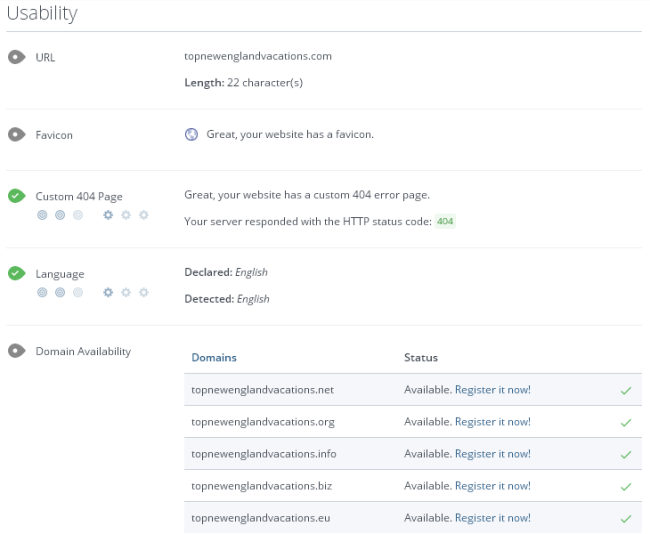 Here the tool tells us:
URL isn't overly long.

Site has a favicon that makes it easily identifiable in bookmarks.

Site has a custom 404 error page that redirects the user to an HTML sitemap for wayfinding purposes - as opposed to just having a dead end.

The DOCTYPE of the page declares the primary language to be English (en), and that's what the tool finds in the copy on page.

Woorank then goes on to suggest available domain names that are variants of the existing one.
Next - Technologies: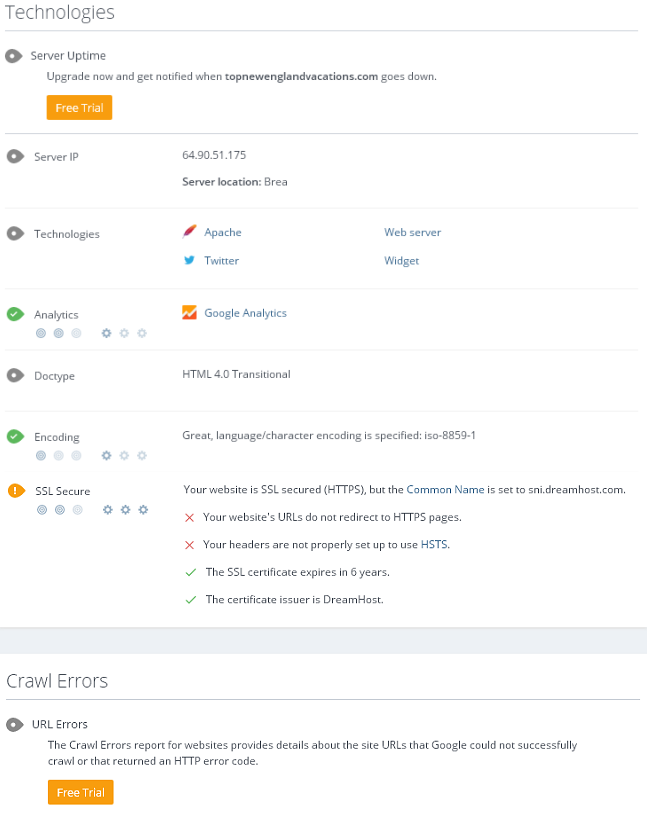 You can see here 2 more Free Trial offers, but also some good free information:
Server IP address and location: at Dreamhost in Brea, CA.

Server software is Apache, and there's a Twitter widget on the page (the one the tool didn't recognize earlier).

Google Analytics code is installed.

DOCTYPE is HTML 4.0 transitional, as this is a relatively old page. (The main point here is that a DOCTYPE has been declared, to help search engines out.)

Page has a META tag specifying a character set (UTF-8).

Re SSL: the way Dreamhost's server is configured seems to have confused Woorank here. This site is HTTP not HTTPS so no redirects are in place.
From here on, Woorank offers several additional Free Trials that I'm not going to get into.
But for a free tool, Woorank has given us a lot of useful, actionable information, don't you think?
And FYI Woorank hasn't compensated me in any way for this review.