The free FATRANK Keyword Rank Checker is a Chrome extension that will quickly tell you the rank on any search term in Google organic search of any website.
The developer has published no information that I can find on what database the tool is using or how recent that database may be, but the tool is easy to install and use and provides a quick means of finding search terms for which your site ought to rank highly but doesn't. Having found that out, you can pursue rank-raising using a more sophisticated (and expensive) tool like SEMrush or Ahrefs .
To get FATRANK just go its page on the Chrome Web Store which looks like this:
As you can see, the extension has been downloaded 41K+ times and has an average rating of 4 stars from 174 reviews.
When FATRANK has been installed, you should see the clickable logo at top right in Chrome:
To use FATRANK, open a website of interest in Chrome, and click on the logo. The first time you do this, you'll have to agree to FATRANK's terms of service and also to provide your e-mail address in order to receive helpful e-mails from them (from which they say you can unsubscribe anytime).
One thing to note: if the website doesn't rank in the top 100 for your search term in whatever database FATRANK is using, the tool will simply tell you that. So to avoid frustration, choose keywords that are not only important but also have a reasonable chance of a top-100 ranking.
I tried FATRANK out on the Maine Office of Tourism's website VisitMaine.com which in a narrow-screen view looks right now like this:
Clicking on the FATRANK icon gave me this:
Notice that the dropdown on the right lets you choose a country to be used as Google Local Region. So if you want to see how the site ranks in Google in another country, select that country in the dropdown. (I'm not sure if that part of the tool works or not - it gave me the same rank for VisitMaine.com in USA, UK, Canada and Australia. Remember this is a quick-and-dirty, free tool!)
Here's the check I did on VisitMaine.com using the keyword "maine tourism", with result from FATRANK: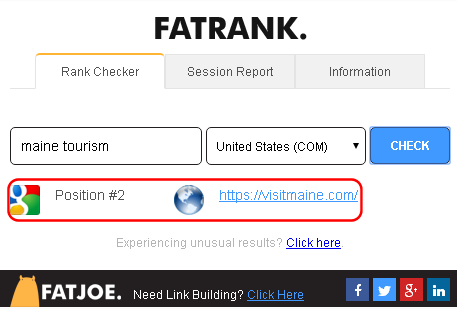 If during one session you check multiple keywords, you can see a summary of results behind the Session Report tab.