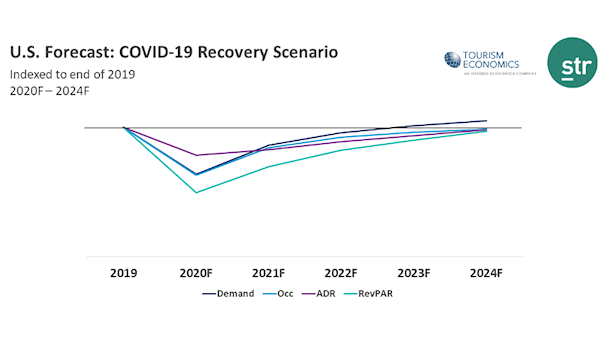 In a forecast released Friday 26 June 2020, STR and Tourism Economics project that US hotel demand won't return to pre-pandemic levels until 2023.
Analysts expect:
Hotel demand for 2020 overall to be down 36.2% from 2019

It will take 11 quarters for room nights sold to return to 2019 levels

Average Daily Rate won't recover to 2019 levels for at least 5 years
However, STR SVP/Lodging Insights Jan Freitag said:
"The good news is that demand and occupancy continue to rise slowly each week, and while slow, recovery should continue provided the country avoids significant setbacks in its progress against the coronavirus."
And Tourism Economics President Adam Sacks added:
"The worst is behind us. Recent performance has shown travel activity is picking up tentatively. Though COVID-19 will remain a defining factor through the first quarter of 2021, the outlook anticipates further gains in travel as confidence is gradually restored and restrictions are eased."
As the graph above shows, recovery of Occupancy, Average Daily Rate and Revenue per Available Room to 2019 levels are all projected to lag recovery of demand by a year or more, to some time in 2024.
Comment: Note that the STR/Tourism Economics scenario seems not to allow for any echo-spike in COVID-19 cases as businesses reopen and larger gatherings are permitted - an eventuality that can't be entirely ruled out.