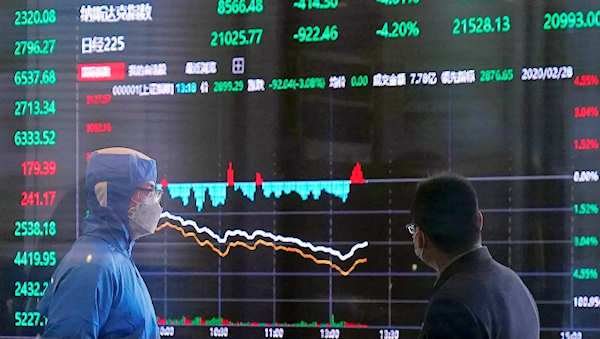 According to a forecast released this week by the Economist Intelligence Unit (EIU), 2020 and 2021 will be "lost years" in terms of growth of the global economy.
And the timing of recovery to 2019 levels is expected to vary widely by country.
Of the major world economies, EIU analysts expect that only China will be able to avoid a recession in 2020.
Most countries are expected to achieve double-digit economic growth in 3Q2020 and 4Q2020, but from a very low base, with output of some countries remaining at low levels not seen for more than 20 years.
Expected recovery, by country (earliest to latest):
4Q2021

India: but with "high downside risk" because India is becoming a COVID-19 hotspot, and a high rate of unemployment without government backup is increasing poverty levels

3Q2022

USA: helped by flexible labor market, but with "grave risks" related to an upsurge in infection rates as states have begun to reopen, leading in July to the reimposition of social distancing rules in some states

4Q2022

Canada and France: high levels of unemployment threaten recovery, but furlough schemes and economic stimulus programs are helpful
Germany: situation similar to Canada and France, but recovery in Germany will also uplift countries throughout the eurozone and eastern Europe, where most national economies are dependent on German manufactuiring

2Q2023

Brazil: disadvantaged by affluence lower than that of North American and western European countries

4Q2023

UK: recovery potentially delayed vs. the rest of western Europe by further economic shock expected to follow the end of the Brexit transition period in December 2020

3Q2024

Italy: the "sick man of Europe" - multiply disadvantaged by the combined impact of earlier stringent COVID-19 lockdown, bleak tourism outlook, high government indebtedness and lack of funds to stimulate the economy
South Africa: disadvantaged by affluence lower than that of North American and western European countries

4Q2024

Russia: disadvantaged by affluence lower than that of North American and western European countries
Japan: economic output has shrunk to 2012 level and recovery will be slow, but Japan is a rich country and is expected to recover without lasting damage
Comment: Based purely on the economics, this analysis suggests that China will be the only major tourism source market likely to produce significant international visitation and spend before 2022. And that view ignores the issue of border closures, travel bans, airline capacity and load factors, restaurant/bar/hotel capacity limitations and closures - and possible significant resurgences of COVID-19 (1) in summer 2020, as destinations reopen and social distancing is ignored and/or (2) in winter 2020-2021 as predicted by a mathematical model developed by medical researchers in Sweden and Switzerland.
A grim picture for airlines, hotels, restaurants, retail and destinations in general. Watch this space for updates.