Twitter announced this week the availability of a new, free Twitter Assistant developed by Union Metrics in affiliation with Twitter. Twitter's pitch (screencap below) is that this tool can answer questions like:
When should you tweet?

What kind of content gets the most engagement?

What hashtags increase your impressions?

Who are the most influential people in your audience/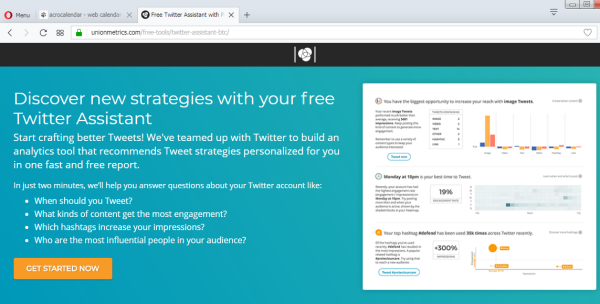 Although we're already using Audiense (ex-SocialBro) to get these kinds of data, that service isn't free. So I took the Union Metrics product for a test drive.
Results:
Upon clicking that Get Started Now button, I was first sent to a form for creating a free Union Metrics account (e-mail address and password). No way around this, so I created an account using our Trending in Tourism Twitter account (@tourismmarketer) but opted out of following @unionmetrics.
Next screen presented some data: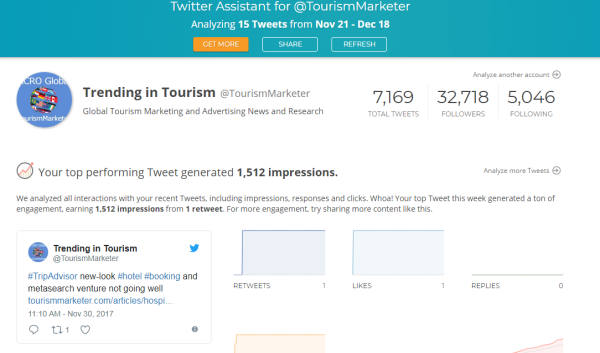 Notice that they analyzed 15 of our tweets over a period encompassing 20 business days. During those 20 days we tweeted 60 times from that account, so they somehow (undefined) took a 25% sample.
Of the 15 tweets included in the sample, they identified the one with the most impressions. Did that tweet really have the most impressions of any tweet from this Twitter account during that time period? Not necessarily, since they only looked at a 25% sample.
So I was immediately skeptical.
Data on clicks, etc. for that one tweet may be correct, but also iffy because of that 25% sample.
Further advice they provided included:
Tweets with images or videos often get more engagenment than text-only tweets. (I knew that.)

Tweets posted on Tuesday at 1 PM got the most engagement (7%). There were 4 Tuesdays in the date range they used, so at 25% sample rate, this statistic is based on data from one day. Iffy. Very iffy.

Our hashtag that got the most impressions #tripadvisor was used 8409 times on Twitter recently. OK, but we can't just keep posting tweets about TripAdvisor if nothing tourism-telated is going on with them.

The "3 most influential" twitter accounts that engaged with us during the time period were @MissionCatnip - a copywriter (10,700 followers), @tourismforalluk - tourism info for disabled people (8,460 followers) and @tourismstartup - an African tourism platform (31 followers). These are all Twitter accounts with which we may be engaging - but a top-3 influencer with 31 followers? Can't buy that.
Here's where the pitch for upgrading comes into play.
Each bit of data they provided us has an accompanying link with text like:
Analyze more tweets

Create better content

Learn when and what to post

Discover more hashtags

Analyze the rest of your audience
All of those links lead to a page that looks like this:
So: anything beyond results based on 15 tweets over 20 days (25% sample of tweets) would cost us $29/month (limited to one Twitter account, one user). Or $79/month for 2 Twitter accounts, $159/month for 4 Twitter accounts (both with unimited users).
In that we're getting more and better data from Audiense for less money than any of those Union Metrics upgrades cost, and output from their the Union Metrics free version is so sketchy and potentially misleading, we won't be using the Union Metrics Twitter Assistant.
Does anyone think that's a bad decision? If so, please let me know, and tell me why.
PS - Audiense isn't compensating me in any way for this mention.