STR - formerly Smith Travel Research - has released a report on an analysis of the resilience of drive-to tourism destinations in response to major events that tend to suppress travel.
STR analysts began by defining a "drive-to destination" as one that's located 50 to 200 miles from a central business district or CBD (i.e., a major city), then compared the performance of hotels in those driving destinations to that of hotels located in the 60 top US cities, using data from the 2 most recent very significant economic downturns, in 2002 and 2009.
Hotels within 50 miles of a major city were considered to be within that city, and not at driving destinations.
Both of the downturns studied began in the month of September, which suggests that leisure travel should have begin to return in the following spring.
In the first 6 months of 2002, hotels within 50 miles of a major city had the highest losses of occupancy (-6%), ADR (-6%) and RevPAR (-12%), while demand for hotels located 50 to 200 miles from a major city grew between 1.1% and 2.4%.
Again in 2009, hotels within 50 miles of a major city had highest losses of occupancy (-12%), ADR (-10%) and RevPAR (-21%).
The analysts concluded that following an economic downturn, travel out of cities into secondary and tertiary destinations increased.
Analysts then looked at rolling 12-month demand indexed to the 9/11 terrorist attacks of September 2011.
Demands for hotels located 50-99 miles, 100-149 miles and 150-199 miles from a major city all recovered significantly faster than did demand for hotels within 50 miles: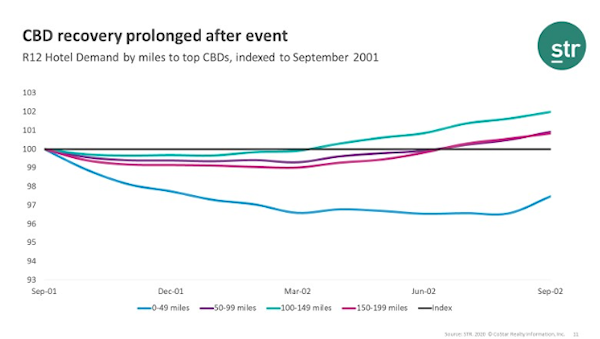 Repeating this recovery analysis for the 2008 financial crisis found that although no hotels showed demand recovery within 12 months, hotel demand in drive markets declined at a slower rate than that of hotels in city centers.
Conclusions the analysts reached:
The 9/11 attacks led to travel declines due to safety concerns. Drive-to destinations performed well because travelers perceived driving to be safer than flying.
2008 brought the worst recession since the Great Depression. Economic decline suppressed travel across the US, but drive-to destinations again performed better than average.
If driving is perceived as being safer than flying, and destinations outside cities are less expensive, then drive-to destinations should be the first to rebound once travel resumes.
Comment: With experts of every stripe being featured in the media daily saying that flying is a high-risk activity as long as there's no vaccine or cure for COVID-19, I believe the STR analysts have got it right: drive-to destinations outside major cities are going to come back first.