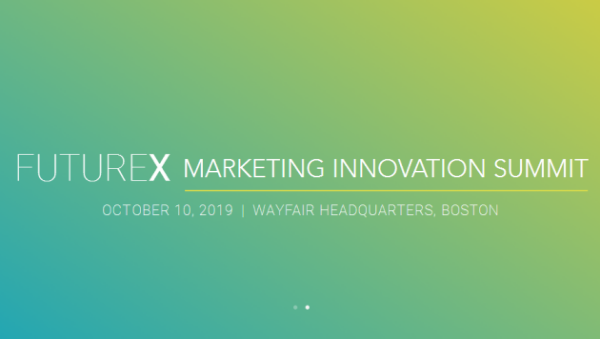 From FutureX:
"Hear from industry giants and marketing experts on the latest marketing strategies and technologies that should be top of mind for organizations. Plan to dive in with your peers and make real connections.
"The Marketing Innovation Summit is open to mid- to senior-level marketing, data, and technology professionals from brands and agencies only."
FutureX is, per website, "a curated program that unites marketing and media professionals with industry titans and quiet giants in content-rich, knowledge-sharing environment."
Venue will be Wayfair Headquarters at 4 Copley Place, 7th Floor Boston MA 02116.
Speakers include reps from:
American Express

Planet Fitness

Undertone

Boston Red Sox

W.L. Gore

Porter Airlines

More
Agenda:
1130 Registration, lunch
1215 Welcoming remarks by MITX/BIMA President Amy Quigley
1230 Keynote by Australian marketing executive and self-proclaimed Digital Prophet David "Shingy" Shing who resigned from Verizon Media in August to work autonomously
1320 "Focus on the customer" panel discussion
1400 Break
1425 "Digital Transformation Trends" panel discussion
1510 "Marketer of 2025" panel discussion
1600 Reception
Tickets are $135 for BIMA/MITX members, $195 for others.
A little pricey for a 4-hour event, but you get lunch. Could be a good update on trends in marketing and customer experience across several industries, some tourism-related.