Transformation of Search Summit scheduled for 19 October 2018 in NYC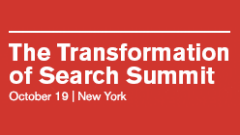 Conference organized by ClickZ with Search Engine Watch and Catalyst will be addressing latest trends in search: platforms and technologies, organic and paid.
One-day event will be held at Convene at 117 W 46th Street in NYC.
Target attendees are "business leaders and search professionals": C-types, high-level marketers, high-level SEO/SEM people.
Early-bird tickets are $795 to 14 September, full rate after that is $1195.